In need of a better butter substitute? Whether you're searching for the best butter alternative for allergies, health reasons, or dietary preferences finding a good butter replacement can be hit or miss. Sure, there are plenty of plant based butter alternatives for sale, but they aren't all exactly as tasty or spreadable as they claim to be.
Butter is a staple in any kitchen. Whether you cook everyday or can't remember if you even own a spatula, there's likely been a stick of butter chilling in your fridge or resting at room temperature on your counter tops. Butter can help keep your baked goods together, get a perfect sear on a steak, and even make a plain piece of toast more enjoyable.
But butter, made from cow's milk, isn't good for everyone's health. If you're lactose intolerant, allergic to casein, or following a vegan diet real butter isn't an option. If you're worried about your cholesterol you've likely already cut it out. Eliminating all dairy from your diet means you need a great tasting butter substitute that also cooks well. To help you weed through your options we've rounded up the best butter replacements for you.
Some butter substitutes are best for baking, others are great for stir frying, and some are ideal for spreading on toast
Best for Baking and Cooking: Melt Organic Vegan Butter Sticks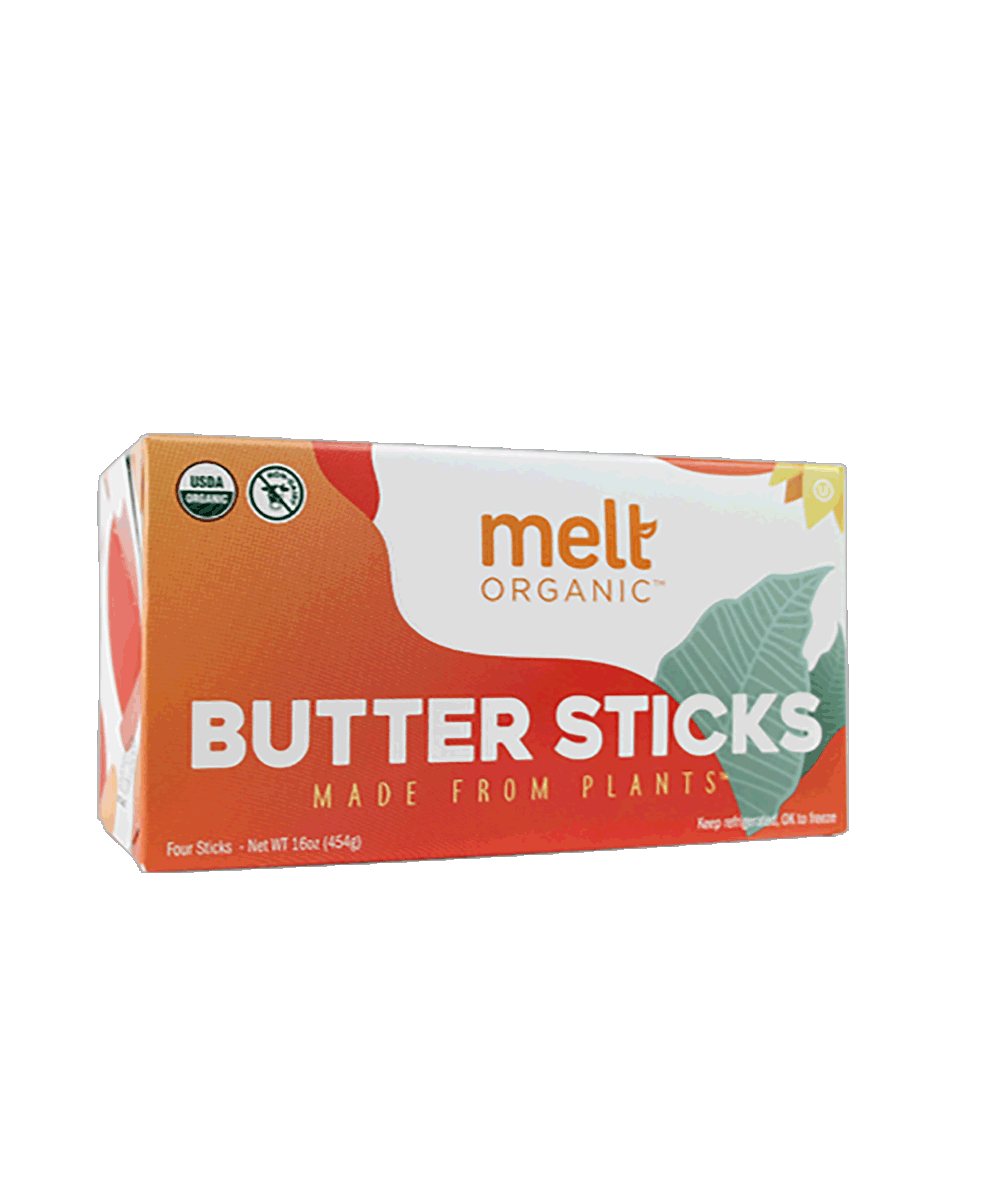 Plant Based Butter Substitute SticksMelt Organic
When you need a tab of butter to add to a cookie recipe or melt in a pan before stir frying, a plant based butter stick is the way to go. Melt Organic Vegan Butter Sticks are rich and creamy like a real stick of butter, but with fewer calories and cholesterol. They're made from non GMO fruit and plant based oils. You won't have to calculate the difference in measurements when using these vegan butter sticks as a replacement, because they measure just like real butter.
$5.99 available at most grocery stores and Shoprite
Best for Spreading on Toast: Smart Balance EVOO Spread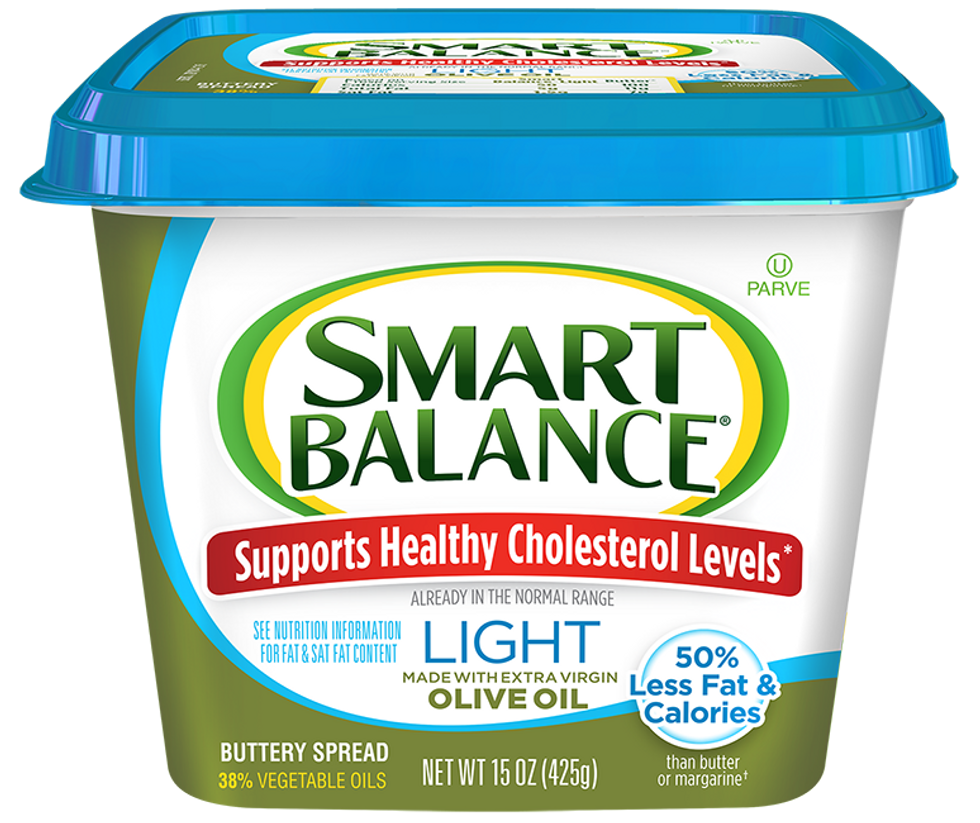 EVOO Butter Substitute SpreadSmart Balance
When you need to butter a warm piece of toast or a muffin that's fresh out of the oven, a dairy free butter spread is a great option. Smart Balance EVOO spread is gluten free and made with extra virgin olive oil. It's also made with fewer calories and saturated fats that butter making it a good choice if you're trying to lower your cholesterol. Dairy free butter spreads can also be used for cooking and sautéing.
$3.25, available at most grocery stores including Shoprite
Best Non Dairy Shortening: Nutiva Organic Vegan Shortening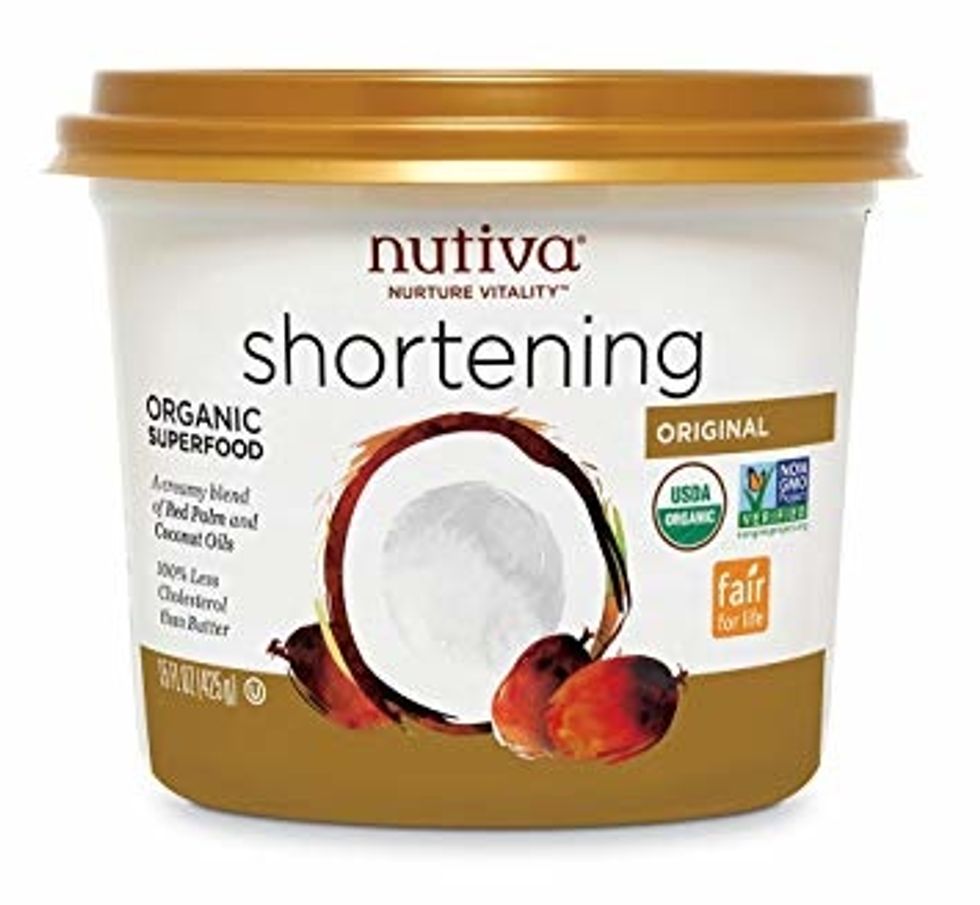 Organic Coconut Oil Shortening Nutivia
While butter is usually about 85% fat and 15% water, shortening is 100% fat and makes cookies and other baked goods softer and more tender. Vegetable shortenings have been available for a while now, but not all of them are safe to use if you're vegan. If you're looking for a vegan shortening replacement try Nutiva. Their organic vegan shortening is made from red palm and coconut oil.
$4.07 available at most grocery stores and on Amazon
Other Natural Butter Alternatives for Baking:
There are plenty of natural alternatives to butter you can also use for baking. You're likely to have a few of them in your pantry already. If you're out of your other butter substitutes (or even the real thing) try using one of these kitchen staples instead. They'll give you the same creamy consistency of butter in your baked goods and most of them are actually healthier for you.
Coconut Oil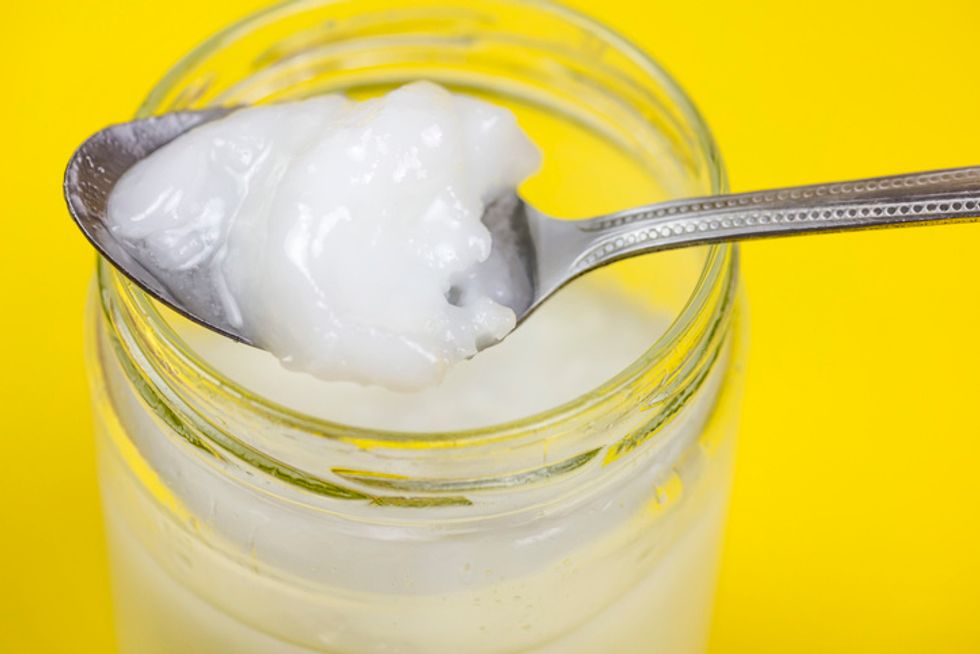 Coconut oil in jar with spoonGetty Images
Coconut oil can be a good choice for baking, because like butter it's solid when cool and melts when it's warmed up. You can use the same ratio of coconut oil to butter, but be careful if the recipe calls for a lot of butter. Using too much coconut oil to replace it can change the flavor of the recipe since coconut oil is sweeter. You might also want to consider cutting back on using too much coconut oil.
Olive Oil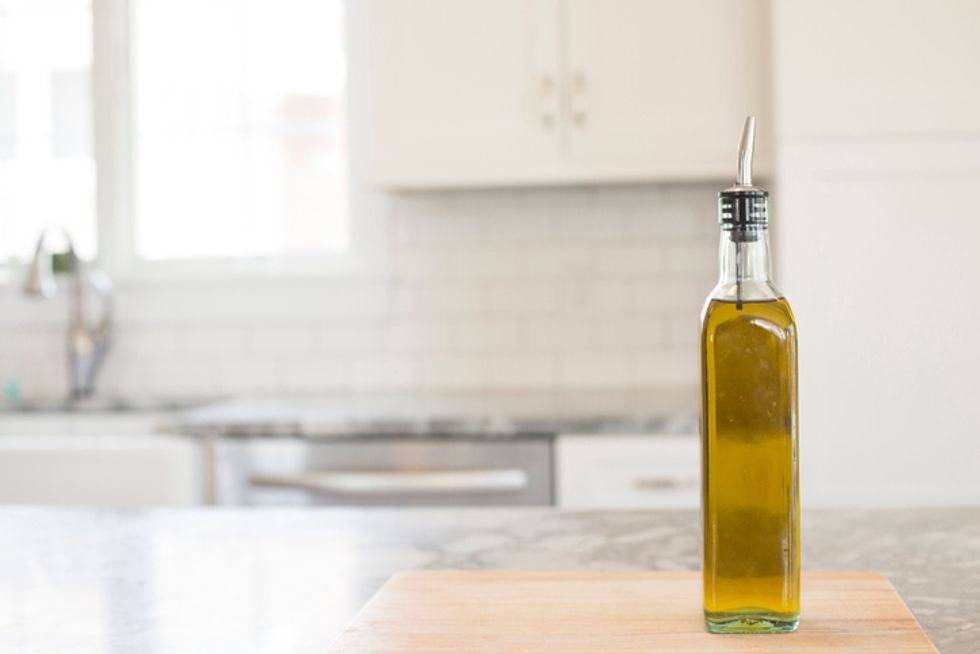 Bottle On TableGetty Images
Olive oil is great to use for savory baked goods like muffins, breads, quiche crusts, and biscuits. It doesn't have as sweet of a flavor as butter so it might change the taste of baked goods like cookies, cakes, and pies. When using olive oil as a butter substitute use ¾ cup of olive oil for every 1 cup of butter.
Yogurt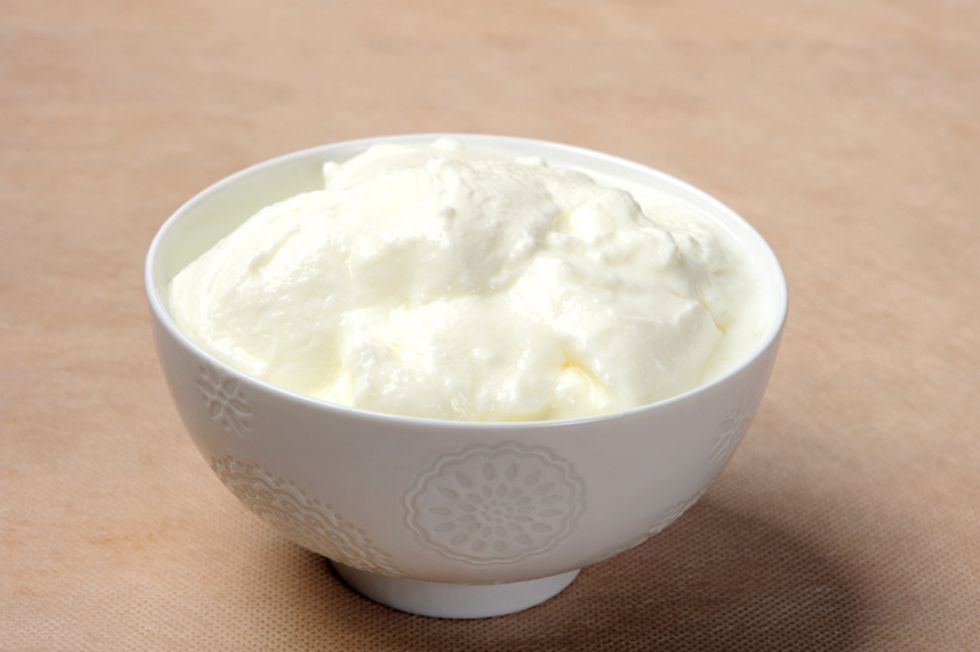 A bowl of yoghurtGetty Images
Greek yogurt is a healthier alternative to butter and gives baked goods a soft, moist texture. While non fat version can still work, whole fat greek yogurt will give you the best consistency. When substituting butter for whole fat greek yogurt use ½ cup of greek yogurt for every 1 cup of butter.
Applesauce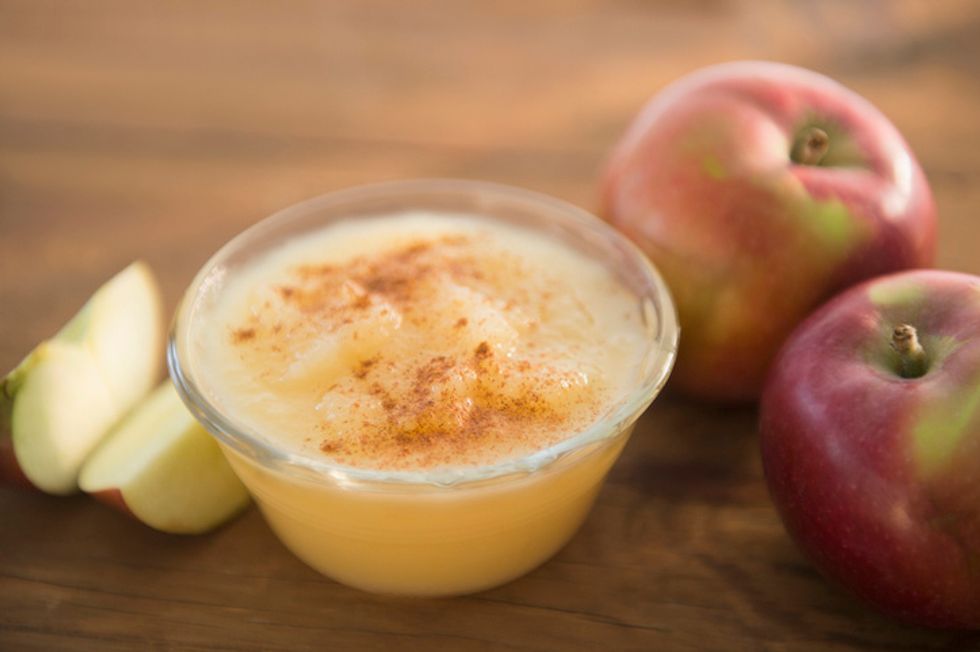 Apple sauce and applesGetty Images
Applesauce helps bind baked goods together and gives added sweetness. You can use the same butter measurement for applesauce, but you might want to add a tablespoon of nut butter or coconut oil in for a little extra fat. The extra fat will help keep the texture from turning out too dry.
Avocado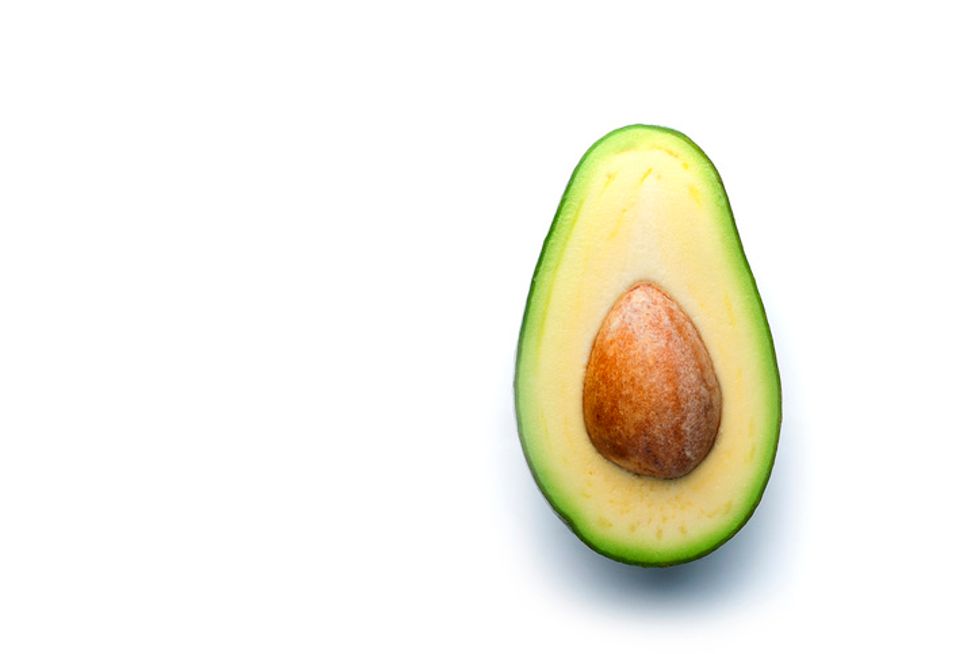 Pit in sliced avocadoGetty Images
Avocados makes a great butter replacement because they're full of healthy, creamy fat. Just make sure you puree the avocado before adding it to your recipe. You can use the same ratio for avocados in baked goods as you would for regular butter. Here's a delicious vegan avocado brownie recipe!

Nut Butters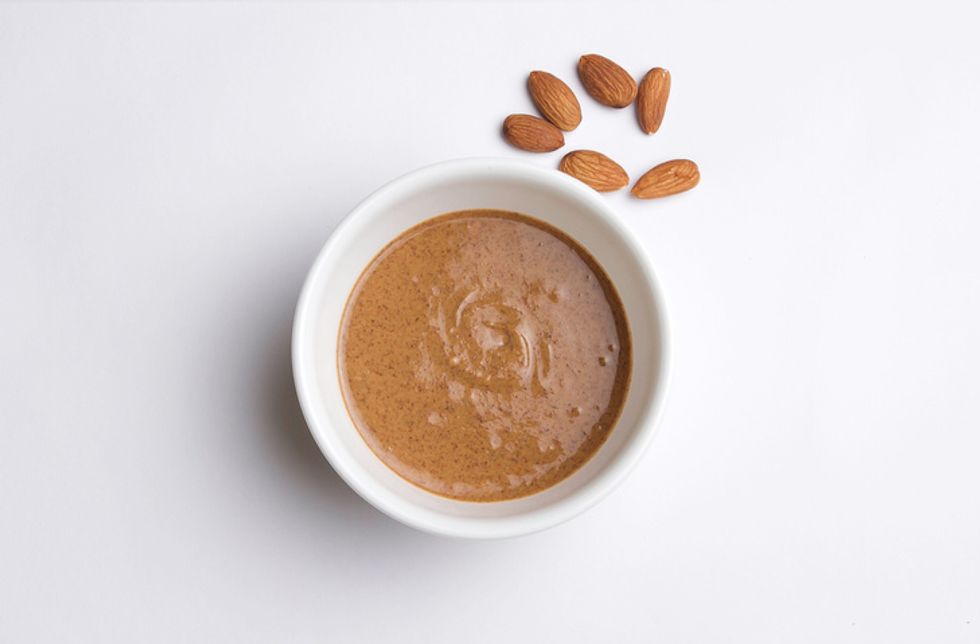 Almond Butter with almondsGetty Images
Nut butters like almond, cashew, and peanut can be a great choice for adding to baked goods like cookies, bars, brownies, and muffins. Aside from all the healthy fats you're also adding a good amount of protein to your treat. Because nut butters are 50% fat instead of 85% like real butter, you'll want to mix it with a little bit of olive or melted coconut oil. If a recipe calls for 1 cup of butter combine ½ cup of nut butter with ½ cup of plant based oil instead.