Thrive Causemetics Brilliant Eye Brightener™ – Here's Your Shade!
By now, you're probably aware that Thrive Causemetics is one of our favorite beauty brands out there. We're obsessed with their high-quality, vegan makeup, and their outstanding approach to clean beauty.
All of their products are the best-of-the-best. Their Liquid Lash Extensions™ Mascara went viral in 2020 for creating an ultra-long, fake-lash look and winning an Allure 2020 Best of Beauty Awards.
Today, we want to talk about their other bestseller, the Brilliant Eye Brightener™. This cream-to-powder highlight stick is so versatile. Ring Light Technology™ illuminates the eyes with shimmering color while boosting radiance and providing an instant lift. Natural emollients like macadamia and meadowfoam seed oil deliver ultra-hydration to smooth fine lines.
Simply apply to the lids, waterline, corners of the eyes, or the brow bone – even your cheekbones! – and blend with your fingers. The easy application is perfect for a super-quick, glowy routine in the morning. And the stick packaging makes it ideal for traveling or on-the-go.
Thrive's Brilliant Eye Brightener™ is waterproof so it really doesn't budge. It's easy to remove with some gel cleanser – ideally the Bigger Than Beauty Skincare® Bright Balance™ Hydrating Gel Cleanser.
The Brilliant Eye Brightener™ recently launched some fresh new shades, bringing them to a total of 16 stunning colorways. But which shade should you go for? How do you know which one will suit you?
Luckily, Thrive Causemetics has a chart to help you decide based on your eye color….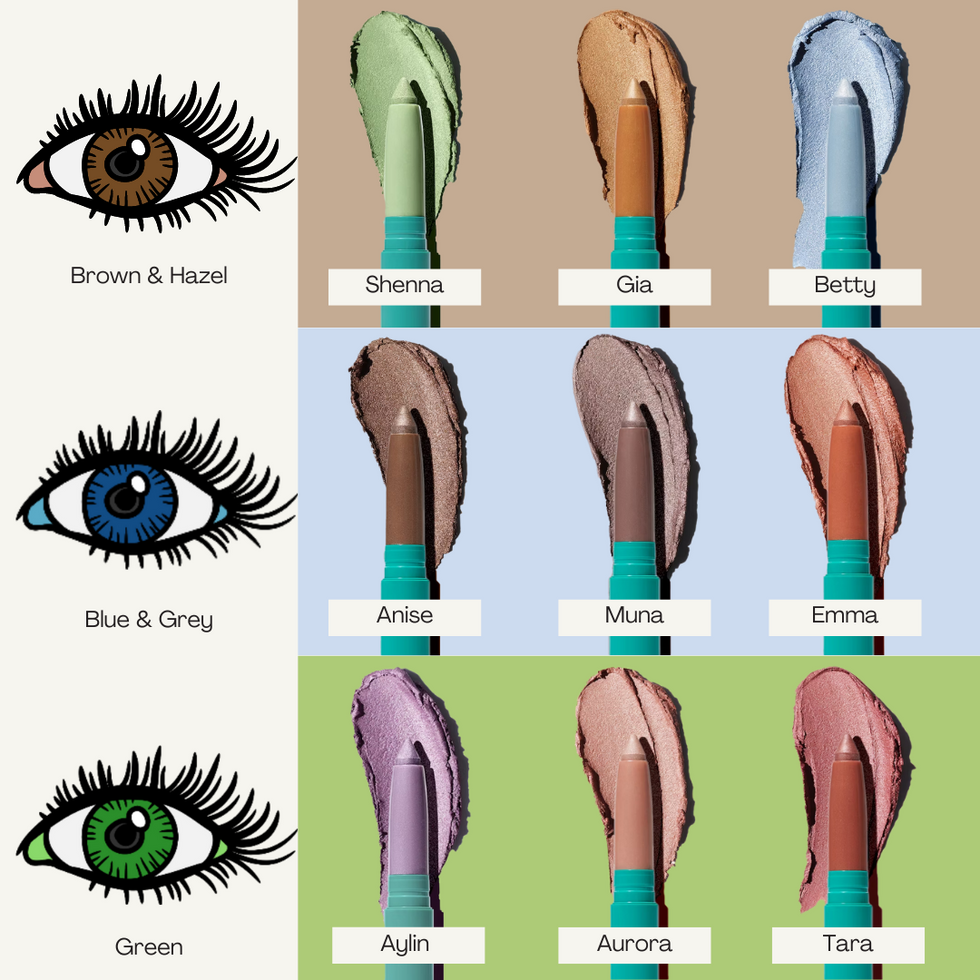 Blue Eyes: Muna (mauve taupe), Anise (warm bronze shimmer), Emma (copper shimmer)
Green Eyes: Aylin (lilac shimmer), Aurora (rose gold shimmer), Tara (rose mauve shimmer)
Brown & Hazel Eyes: Shenna (mint green), Gia (warm gold shimmer), Betty (sky blue shimmer)
All Eye Colors: Stella (Champagne), Callie (Greige Taupe Shimmer), Izzy (opalescent shimmer), Estrella (white pearl shimmer), Racquel (soft silver shimmer), Pili (cool gold shimmer)
For this premium, versatile product, $25 is such a bargain. Since its founding in 2015, Thrive Causemetics has a mission to help women truly thrive. They donate products + funds to over 200 non-profit Giving Partners that support women and their communities. Some of their causes include women fighting cancer, LGBTQ+ communities, and working to end racial injustice.
Thrive's skin-loving, cruelty-free makeup collection includes eyeliner, eye shadow, primer, CC cream, concealer, blush, lip liner, gloss, and much much more!
Hey, beauty lovers! Check out Thrive Causemetics, you won't regret it.