Now that spring is officially here, you can safely pack away your trusty winter boots. The sun is shining (most days) and sandal season is officially starting! If your feet were getting bored in basic black boots and closed-toe heels, get ready to show off some color and air out those manicured toes.
Pale yellow and sage green are two of the biggest color trends (link to fashion trends article when published) this spring. Heeled sandals in these beautiful, pastel shades are a subtle way to embrace the trend. Heeled mules, woven slingbacks, kitten heels. All of these daytime heels are wearable for work, the weekend, and even for that bumble coffee date.
Here are 5 daytime heels for spring to add to your wardrobe.
The Blocked Heel Sandal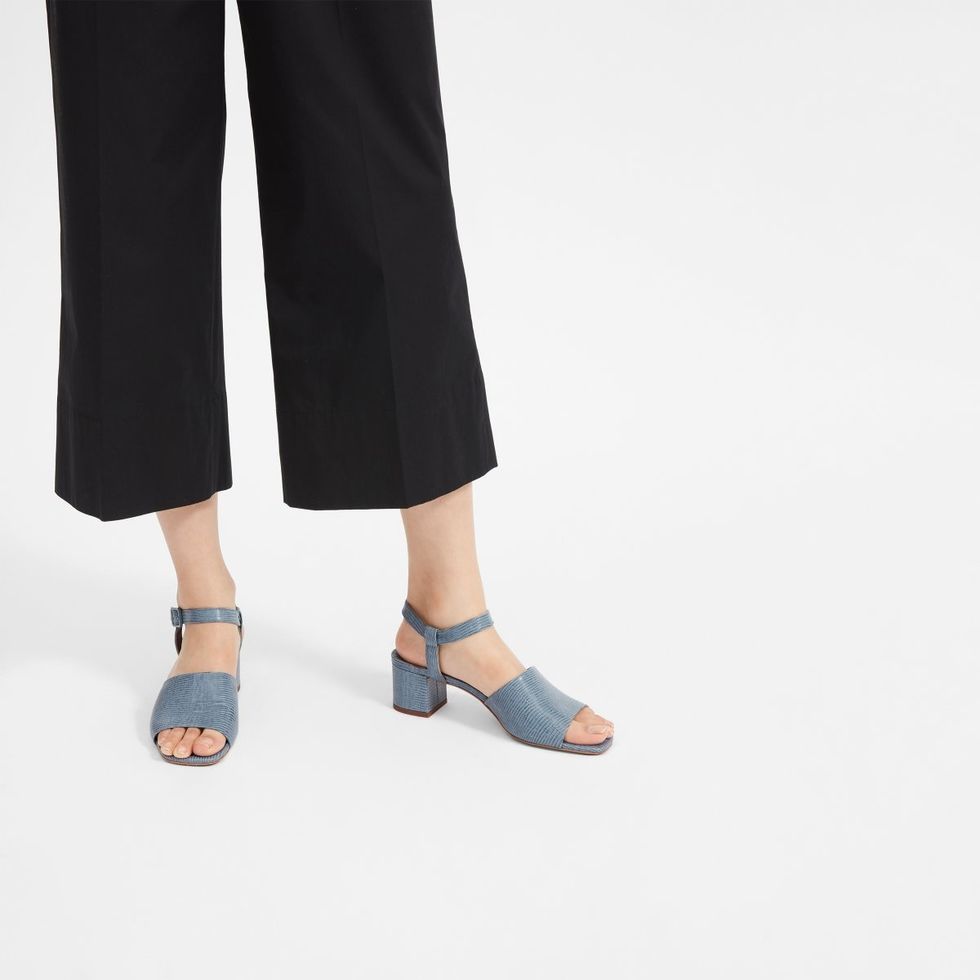 Blocked heeled sandals Everlane
Everlane is known for making wearable basics, but with an updated, modern twist. These blocked heel sandals have a 2-inch heel that makes them comfortable enough to keep on all day while running errands and sturdy enough to run for closing subway doors when you're late for work. They're made of 100% soft, Italian leather, have a wide strap in the front, skinny strap in the back, and rubber sole to keep your feet from slipping.
Woven Slingback Heels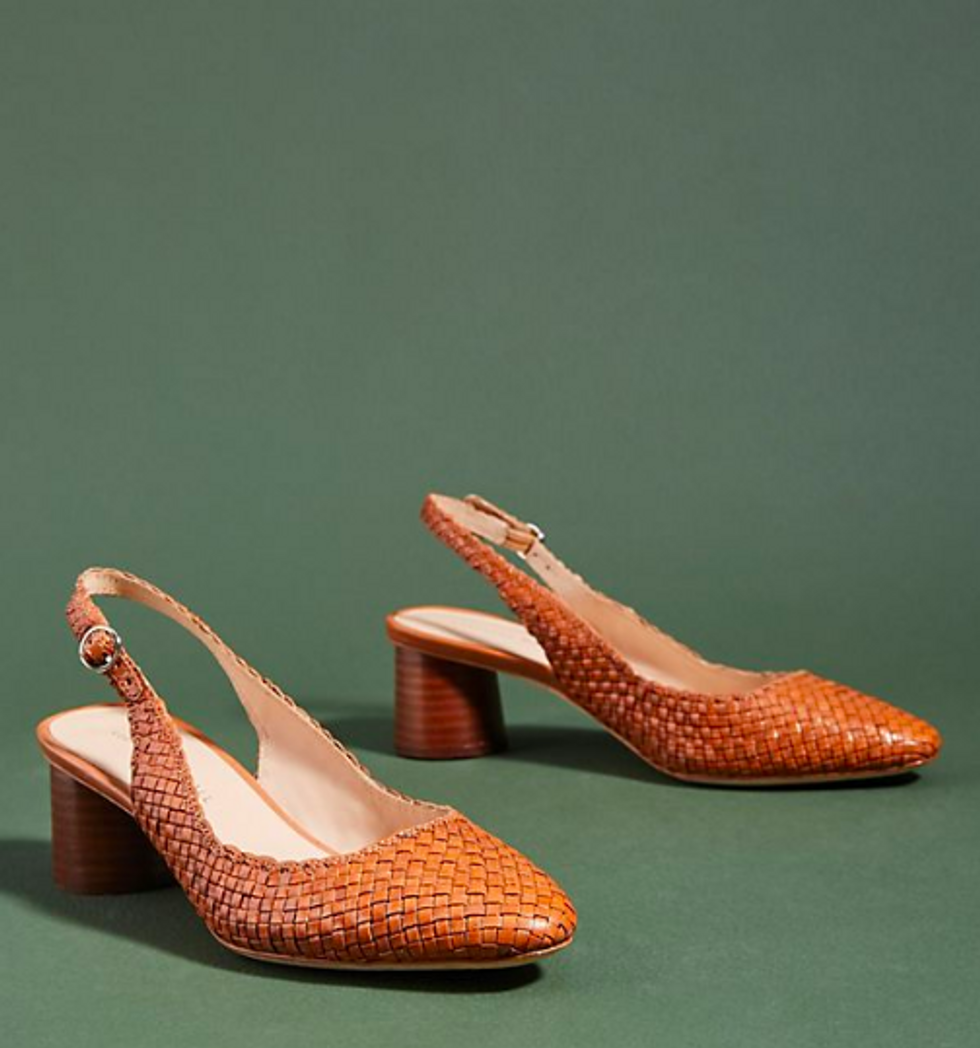 Loeffer Randal wooven heeled slingback shoesAnthropologie
Along with pastel shades, woven accessories are one the biggest spring 2019 fashion trends. These slingback heels are made of woven leather and feature a wooden two-inch heel. They're easy to walk in and will quickly become one of your favorite go-to warm weather shoes.
Loeffer Randal: $375.00 at Anthropologie

Pale Green Square Heeled Teclado Sandal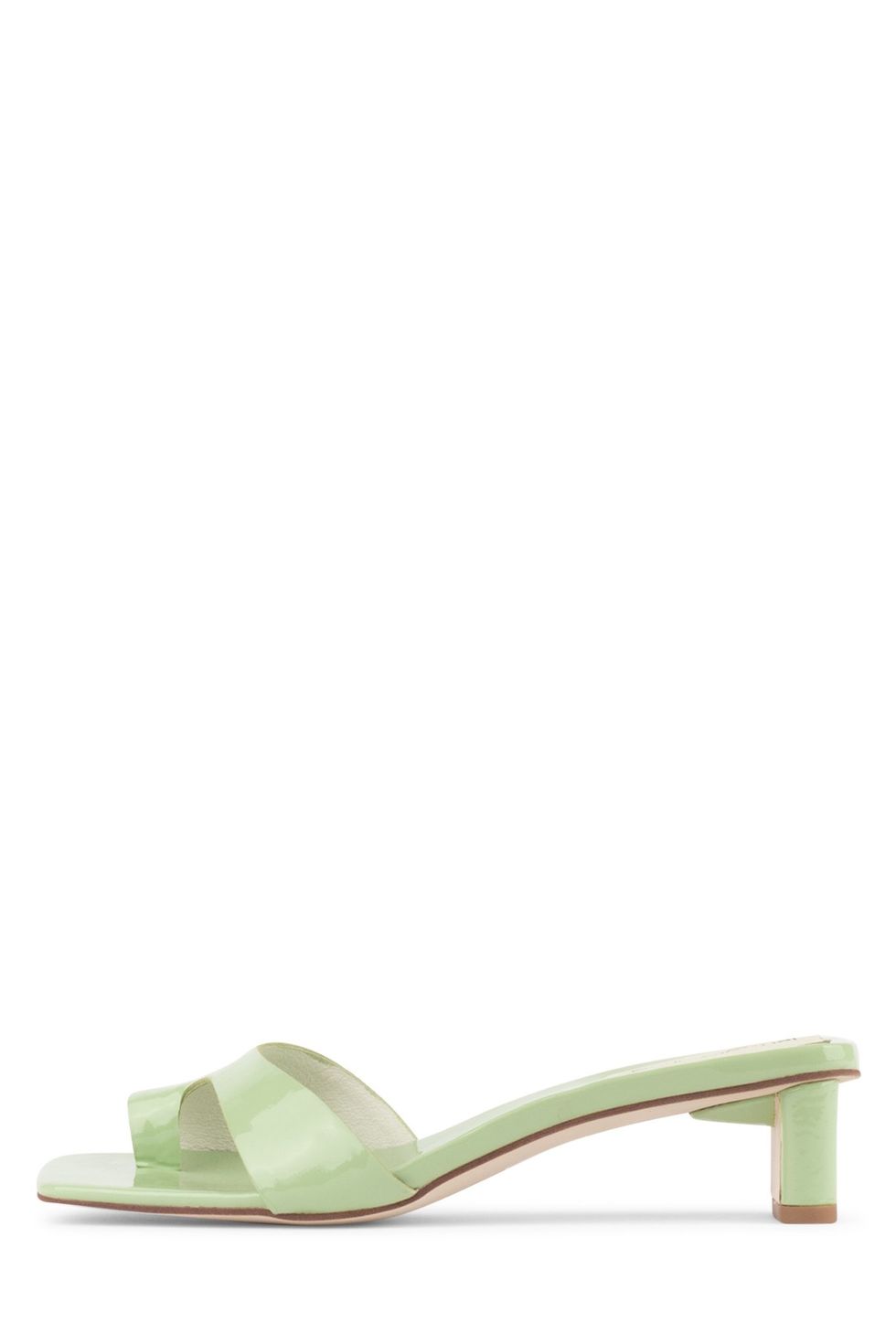 Pale green square toe teclado heelsJeffrey Campbell
These sage green squared toed heels are perfect for a daytime date or dressing up jeans and t-shirt. A 1 ½- 2-inch heel is ideal for wearing during the day because let's face it, wearing 4-inch heels all day sounds like a chore. These heels have a 1.75-inch heel, leather upper, leather lining, and a synthetic sole.
Black Wide Buckle Slingback Heels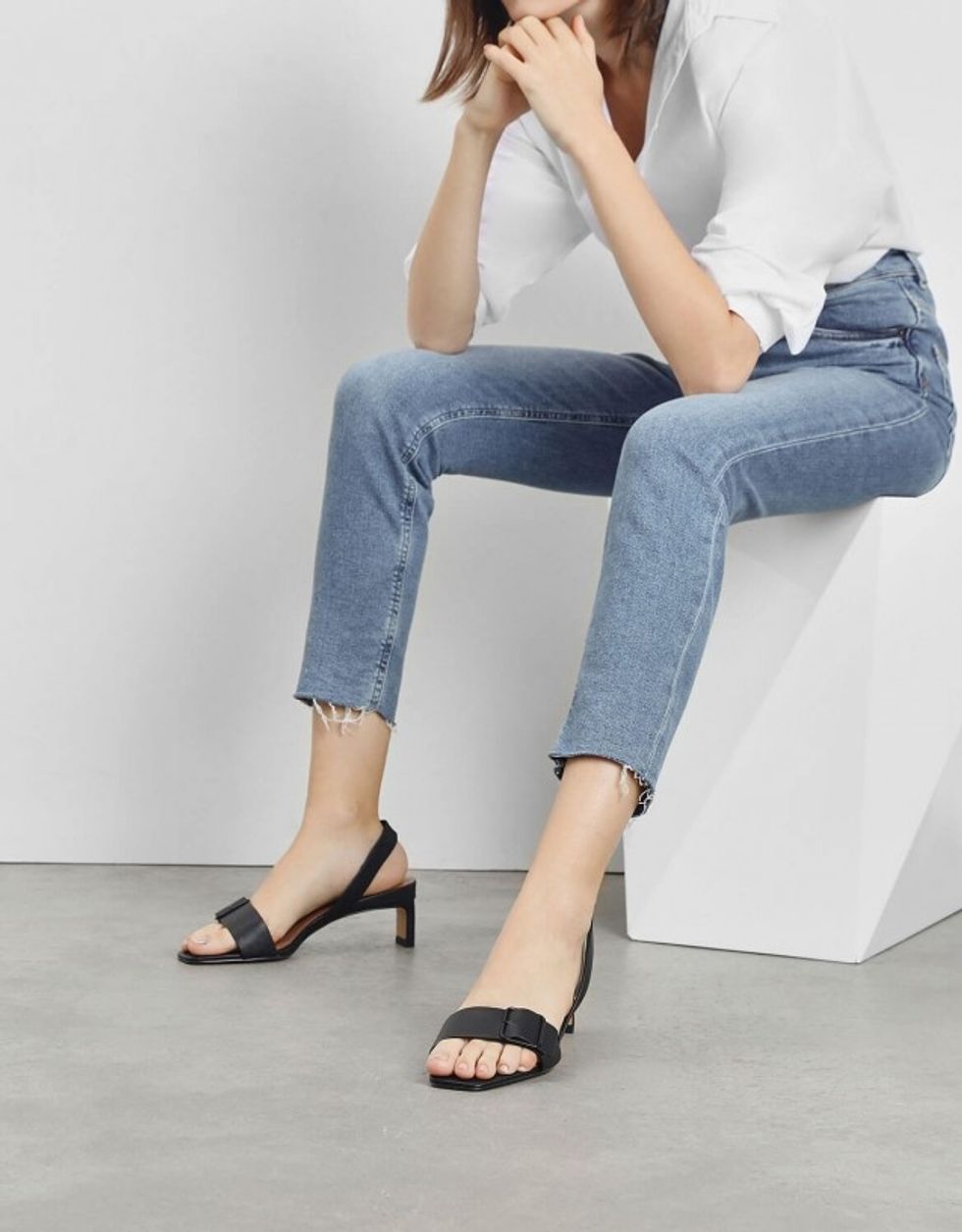 Black wide buckle slingback heelsCharles & Keith
If you can't wrap your head around the pastel trend, stick with a classic, easy to wear, everyday heel. These buckle slingbacks from Charles & Keith are so versatile, they might just be the only heeled sandal you need this season. Wear them to work, on a day date, and for all your daytime weekend plans. You can wear them with jeans, this season trendy shirt dress (link), a long skirt, and more.
Pale Yellow Kitten Heel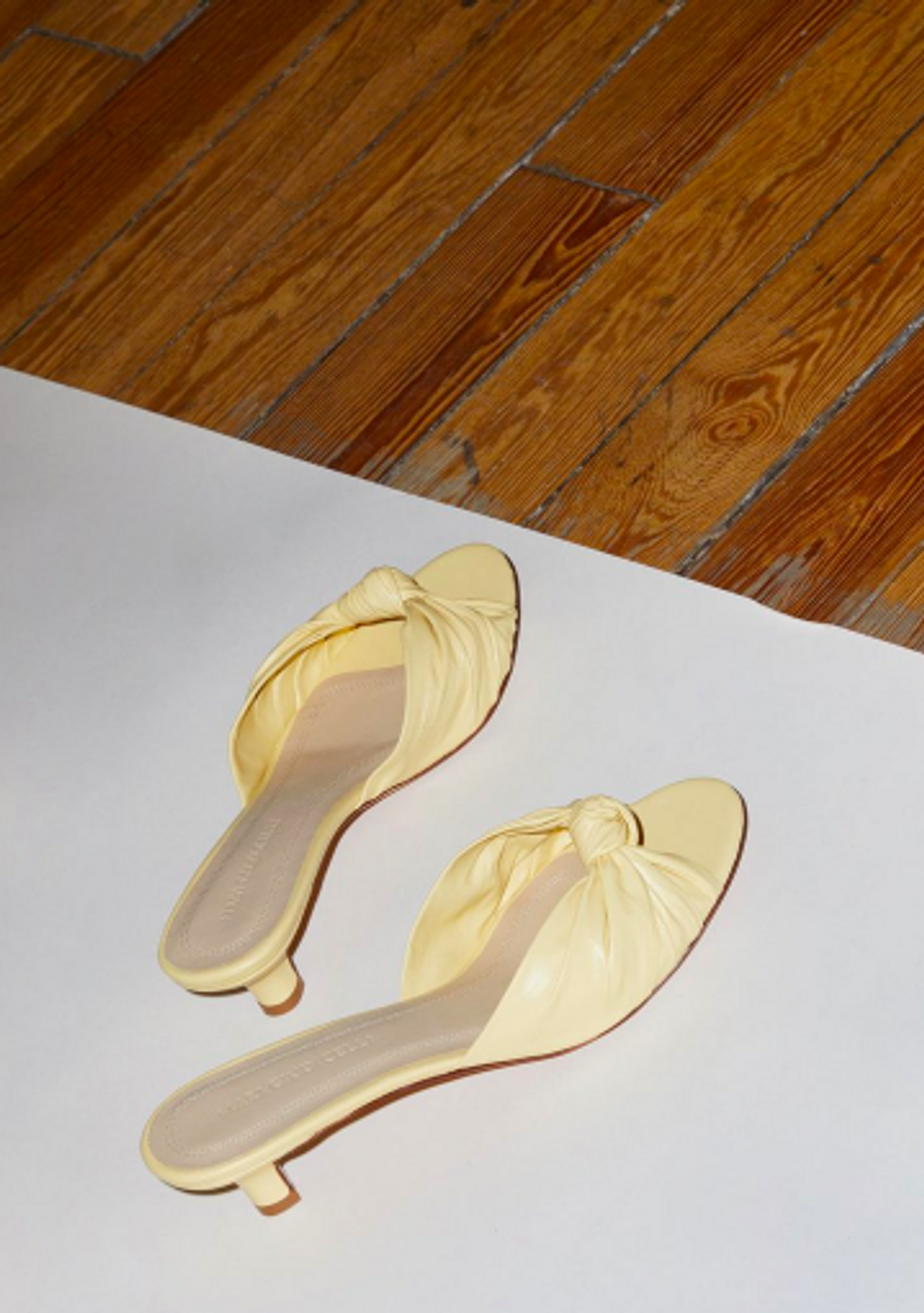 Mari Guidicelli Jeanne Kitten Heel SandalsNo.6
These buttery, pale yellow kitten heels are feminine and sweet. They're made of 100% soft Italian leather with a padded calfskin footbed for extra support. The small kitten heel and knotted front strap make them easy to slide into and comfortable enough to stay in all day. Pair them with jeans, a cute spring dress, or even with a suit for a feminine touch.
Mari Guidicelli Jeanne Sandal: $380.00 available at No.6