Whether you've gone vegan for your health, the animals, or to reduce your environmental impact, hosting a vegan brunch can seem daunting. When you think of classic brunch foods eggs, bacon, and dairy filled pastries first come to mind. You've probably got vegan dinner ideas and even desserts down by now, but what do you whip up for brunch when you can't have any animal products?
It's easier than you might think to throw together a tasty brunch full of flavor and texture with only plant-based foods to play around with. You can easily recreate classic brunch-y recipes like pancakes and bacon, quiches, and breakfast tacos with a vegan twist. But when you're making a vegan brunch, you also have the opportunity to try new colorful recipes that are sure to become favorites.
Savory and sweet flatbreads, vegetable hash over toast, and tahini breakfast bowls will get you excited for your weekend brunch plans. Even if you aren't vegan, these recipes are sure to be a hit. Here are 7 great vegan brunch ideas to try asap.
Pomegranate Tahini Breakfast Bowl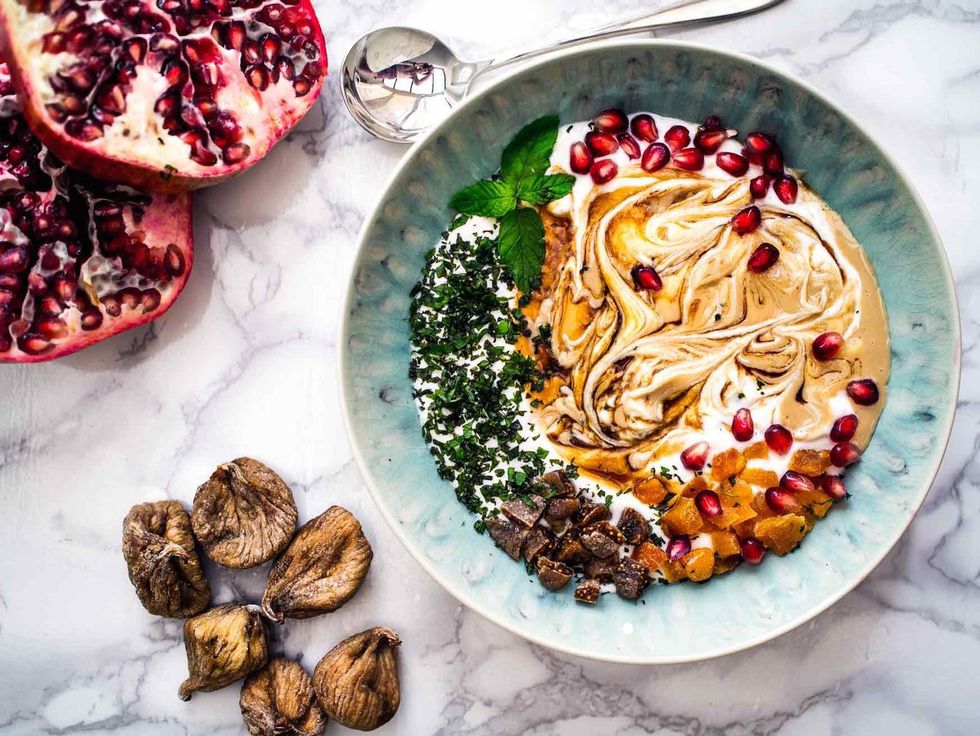 Vegan Breakfast Bowl Discover Delicious
Breakfast bowls are beautiful, hearty, and great to serve for brunch. Guest can create their unique bowls by choosing their toppings. Lay all the ingredients out on the table and let everyone come up with their own variations.
This vegan breakfast bowl recipe from Discover Delicious subs regular yogurt for soy yogurt mixed with tahini and pomegranate molasses. Mint leaves, dried apricots, dried figs, and pomegranate seeds make tasty, colorful toppings.
Vegan Banana Pancakes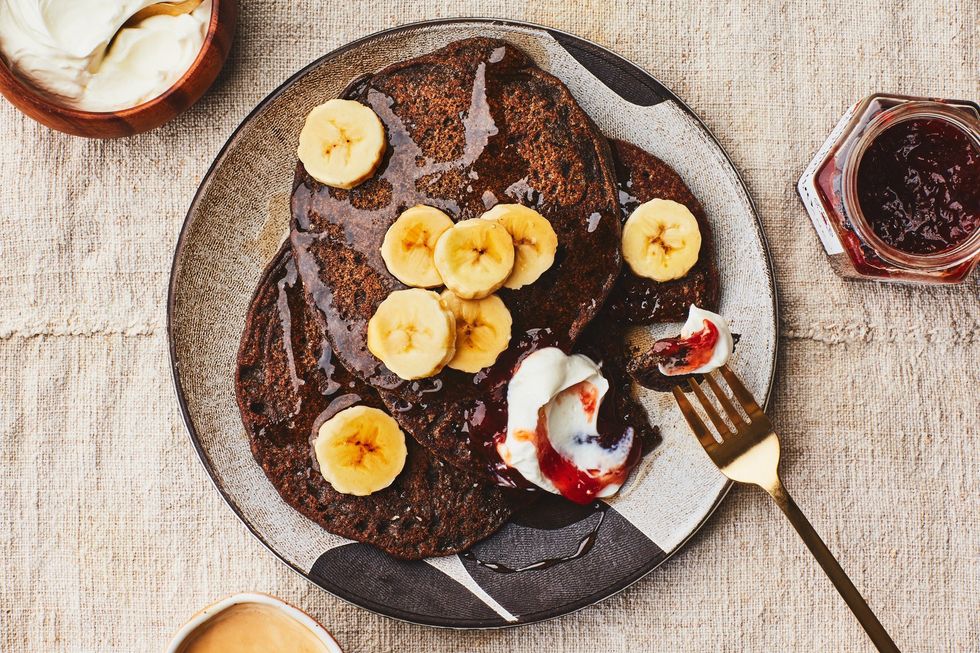 Vegan Banana PancakesBon Appetit/Healthy-ish
Banana pancakes are a delicious brunch staple. Luckily you don't have to give them up just because you're vegan. These buckwheat banana pancakes from Bon Appetit's sister site, Healthy-ish, are so good you'll want to make them if you aren't vegan.
Overripe bananas are mashed and then mixed into a batter of buckwheat flour, cinnamon, salt, and you're favorite non-dairy milk alternative. Serve them with maple syrup, fruit jam, and a side of eggplant bacon.
Vegan Breakfast Tacos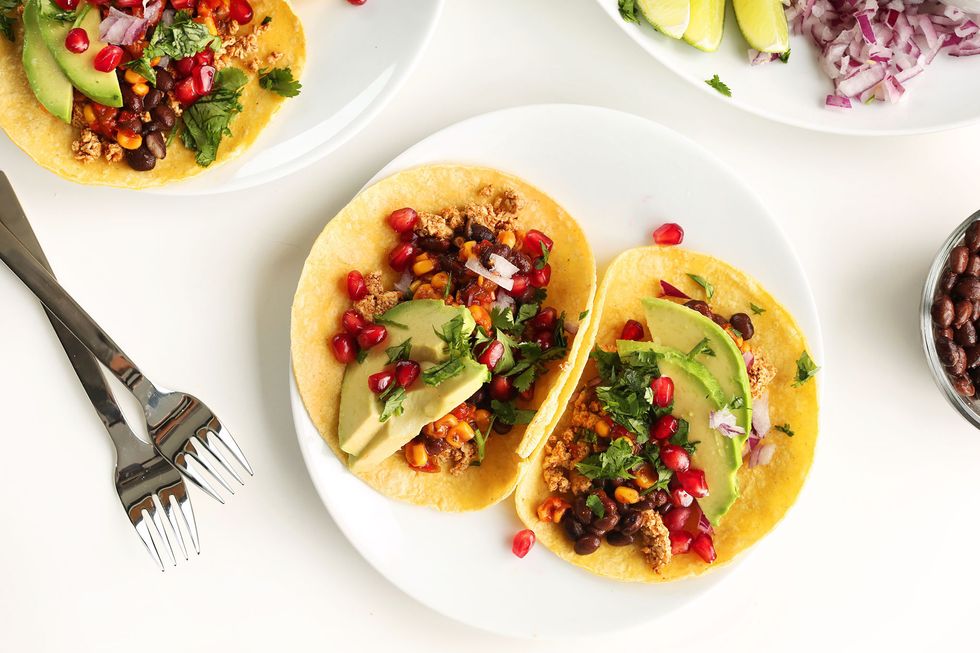 Vegan Breakfast TacosThe Minimalist Baker
Tacos are great for breakfast, lunch, or dinner whether you're vegan or not. They're quick to whip up and make serving a breeze. These vegan breakfast tacos from The Minimalist Baker only take 30 minutes to make and are sure to be a hit when you serve them for your next brunch. Tofu acts as a scrambled egg substitute and avocado, black beans, red onion, cilantro, and pomegranate seeds add serious flavor and texture as toppings.
Vegan Peach & Raspberry Galette
By Bakerita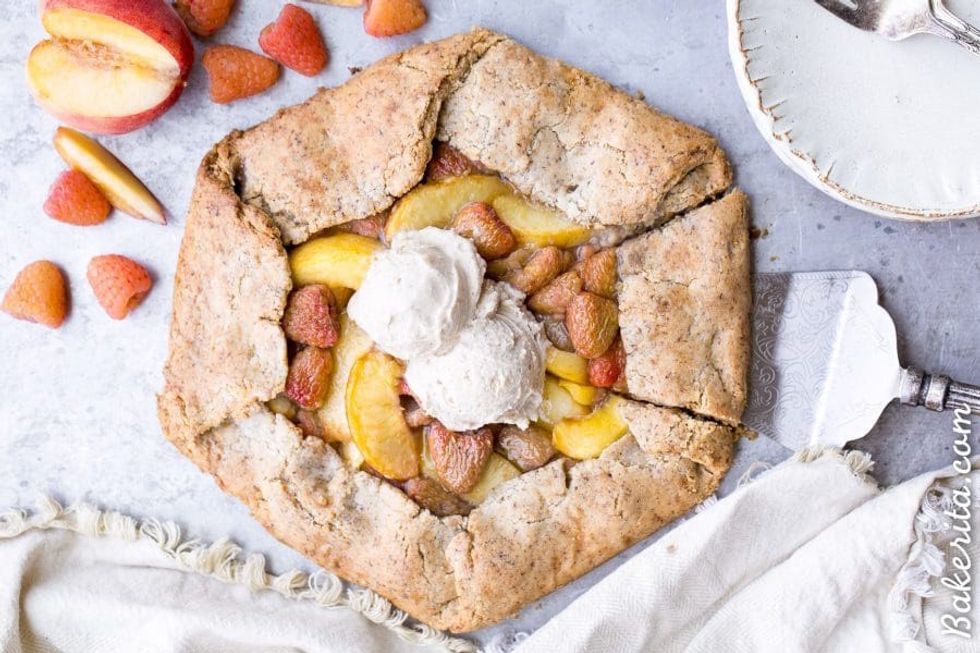 Vegan Brunch Galette Bakerita
If you gravitate towards sweet rather than savory in the mornings, try serving this beautiful vegan galette. The flaky crust is made from almond and tapioca flour and the then filled with peaches, raspberries, maple syrup and a dash of non-dairy milk. Serve it with a scoop of vegan coconut ice cream or a dollop of aquafaba.
Vegan Sweet & Savory Flatbreads
By Oh She Glows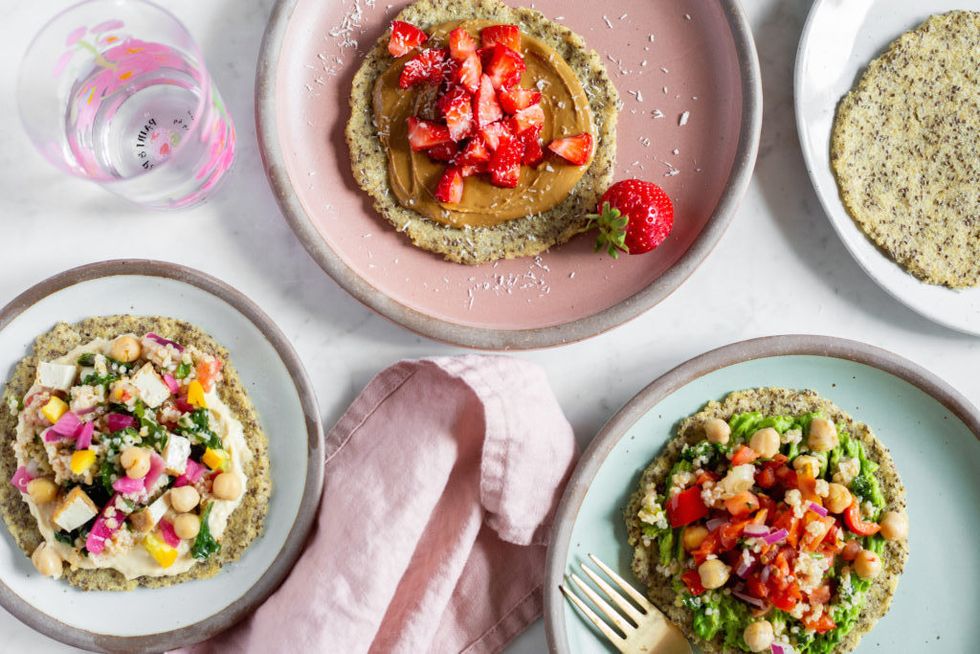 Vegan Brunch Sweet and Savory FlatbreadsOh She Glows
Can't decide between sweet or savory for brunch? Why not have both! This 3 ingredient vegan chia seed flatbread recipe couldn't be easier to make. Serve them with a table full of toppings that guests can add themselves like hummus, pesto, roasted red peppers, chickpeas, beets, nut butter, strawberries, berries, and honey.
Asparagus & Mushroom Vegan Quiche

By Emilie Eats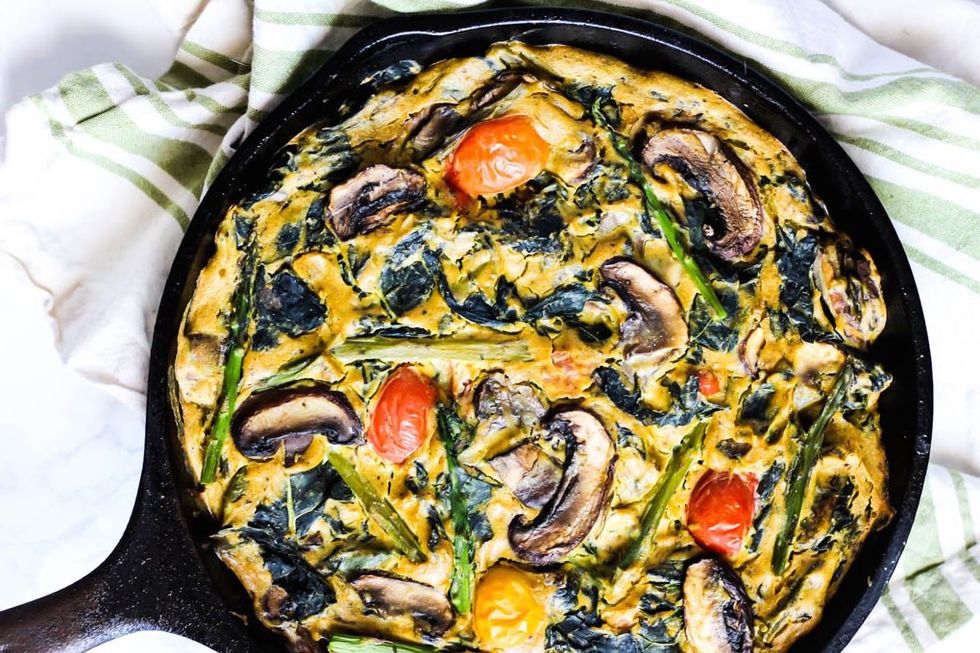 Vegan Breakfast Tofu QuicheEmilie Eats
This healthy vegan quiche recipe from Emilie Eats is full of vegetables and plant-based protein. Silken tofu acts as the perfect egg substitute for a lot of vegan dishes. Mushroom, asparagus, tomatoes, kale, and spices make this quiche hearty, healthy and delicious.

Sweet Potato & Corn Breakfast Hash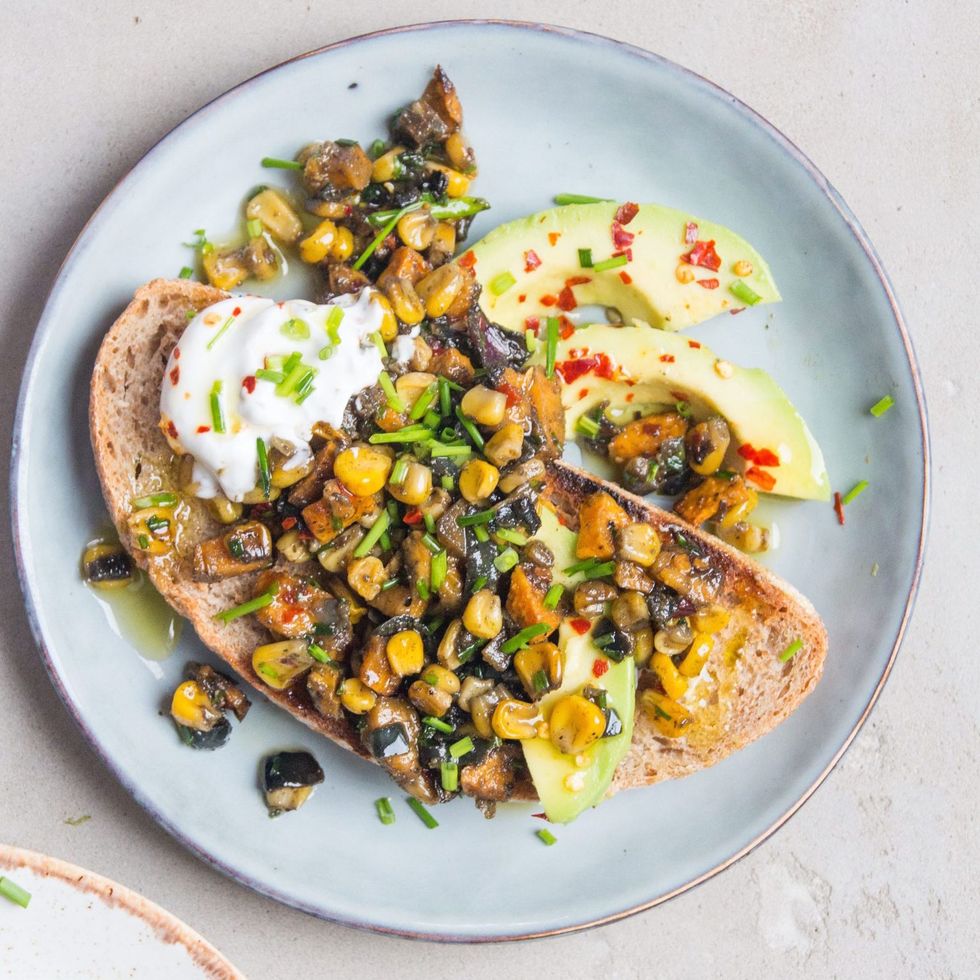 Vegan Breakfast Hash on ToastDeliciously Ella
Upgrading a simple piece of toast with filling toppings makes a yummy and easy vegan brunch. This recipe from the popular vegan blog Deliciously Ella tops toasted bread with an easy sweet potato and corn hash. Add slices of avocado, a spoonful of coconut yogurt, chives and a drizzle of olive oil for the ultimate vegan brunch toast.