If you're anything like me when it comes to workout clothes, you have a couple of old t-shirts and a pair of black pants that are stretched out from wearing them for too many years. You get to the yoga studio and wonder where all these fit girls get their bright-colored athletic garb sure to make each pose look like a billboard for Nike.

Then one day while run-walking on the treadmill, I saw an ad for Fabletics.com that caught my eye. Fabletics.com is a subscription site that gives its members access to a plentitude of stretchy pants in neon colors, push-up sports bras and adorable ballerina-inspired tops. I tried to convince myself I didn't need another monthly bill added to my credit card, but after seeing Kate Hudson's face on these ads time and again I finally caved and signed up.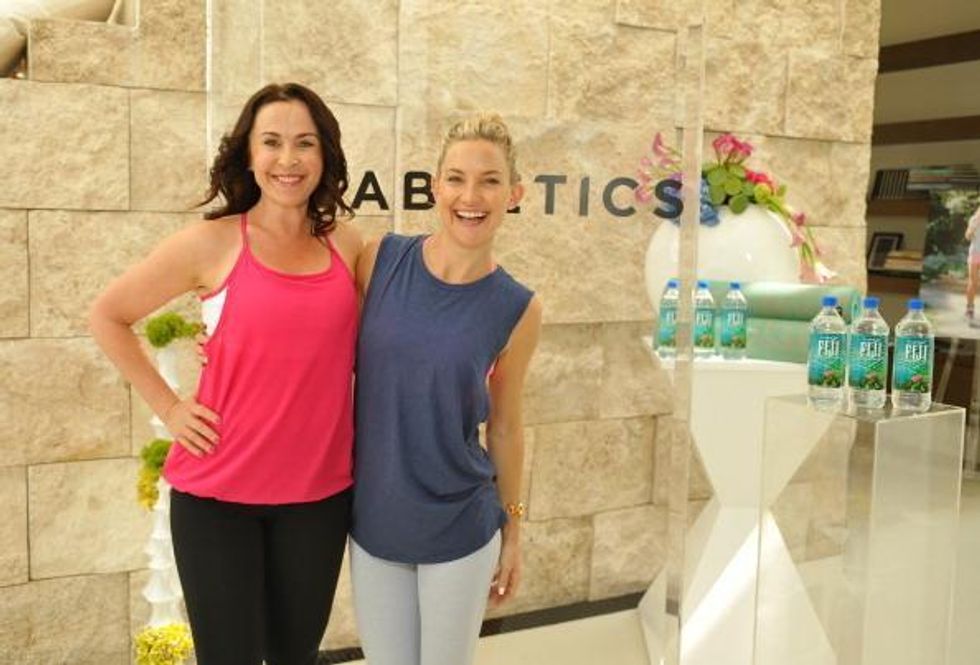 Getty Images
How it works

When you become a VIP member, Fabletics charges your card $49.95 on the 5th of each month. You have until the 5th to decide to "shop or skip." If you skip the month you won't be charged the $49.95 and can continue to skip each month until you're ready to shop.
Get started
You begin by filling out a survey with questions about your preferred style of exercise, your favorite place to work out and your body type. After creating your account, you're offered a deal and a timer pops up prompting you to take advantage of the discount while it lasts. And then comes the fun part, the shopping!
Styles
Fabletics has athletic wear for any type of lady from the yogini to the runner, to swimwear, and even a few dresses for post-work out. The clothes are all organized into categories based on color and fit, making the site easy to browse. Based on your preferred size, color, and body type, Fabletics customizes the experience and suggests outfits you may like.
Pretty straightforward, right? I thought this would be the solution to all my fitness problems. Okay, maybe these new clothes wouldn't help me wake up earlier or suddenly be able to do a perfect push-up (no, not a knee push-up) but at least I'll look cute trying! Over the course of a few months, I bought seven tops, five pairs of leggings, two bras, and a jacket. It was easy (sometimes too easy) to shop, but the return and exchange process was simple.
Here's what I loved

The customer reviews were a great way to read what other ladies were buying and what they liked or disliked about each product. Each review listed the size purchased and the height and weight of the customer. This proved to be very helpful since it's hard to tell how clothes will fit just by looking at a photo of a model in spandex.
I also loved the simplicity of the entire process from start to finish. But this leads into what I disliked about the site…
What I disliked
If I'm going to be paying $49.95/month, I at least want to feel like we're on the same team. Instead, their marketing strategies felt obvious and inauthentic. The frequent emails with photos of new designs and colors catering to my personal preferences left me with no self-control (this may be saying more about me than anything else, but this article isn't about me). That being said, I also was not a fan of the 60 minute timer that would appear once you added anything to the cart. I understand why this would help to drive sales but I didn't appreciate having my impulsions capitalized on.
The product itself

Most importantly, the quality and fit of the clothing was inconsistent. The bras had varying padding sizes that didn't look natural at all. I loved one of the bras I purchased but wasn't impressed with the other. Something about the material of the bras and the tank tops caused the fabric to stretch during use which doesn't make for an useful product.
My verdict on the capris and leggings was split too. The Salar capris in a solid color (I got bright green) were the perfect amount of stretch and softness, but the Salar capris with patterns felt like the pattern had been printed on which made for a slick feel and a not-so-flattering look. I purchased this jacket on sale and it has become a staple in my workout bag.
What's the verdict?
Overall, I love the concept and the affordability of the clothing, the user experience was good enough, and the pieces were cheap but hit-or-miss. If the clothes were of better quality, I could've been persuaded to keep my membership. I've already started checking out the competitor sites and these look promising: Brighter Yoga, Yoga Smoga, and Evolve.