Now that the frenzy over kale is finally dying down, it's time to pay our respects to some of the other unsung healthy heroes of the food world, like the zucchini. Zucchini is not only healthy, but it's also seriously delicious without having to be doctored up much (sorry, kale). Besides all the great health benefits zucchini has to offer, it's also extremely versatile, which means you can use it in everything from pasta to desserts.

All The Veggies Pasta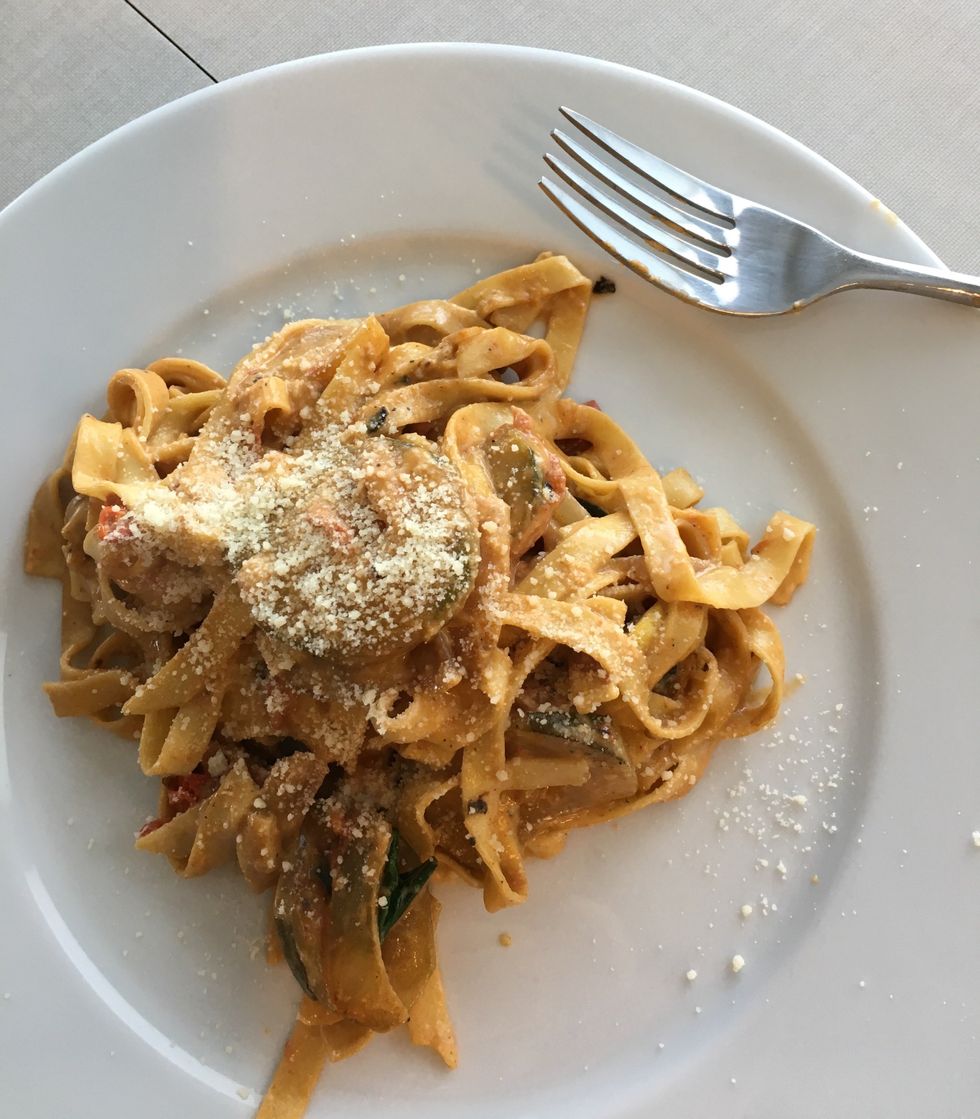 benframes photography
I made this recipe up once by going through my fridge and trying to throw something quick together. It then became a staple that people began requesting. It's so easy, and healthy, but also really flavorful and rich! Don't be scared to experiment and alter this recipe to fit what you have in your own fridge.

2 zucchini
2 butternut yellow squash
1 shallot
1 sweet yellow onion
1 garlic clove, mashed into paste
5 tomatoes on the vine
½ cup heavy cream
½ cup grated parmesan
salt and pepper to taste
butter
extra virgin olive oil
1 box pasta of your choice (I love bow-tie with this)
Dice the shallot and mash the garlic clove. Add both to a large skillet on medium heat with butter and EVOO. While that cooks down (stir occasionally), cut the onion into rough chunks and add to the skillet. Peel the zucchini and squash leaving about half the skin on. Cut zucchini and squash into 1" cubes or whatever shapes you want. When the onion and shallot begin to look see-through add the zucchini and squash to the mix. Continue to cook all the veggies until they cook down and become a nice golden brown on all sides. Once that happens, add the tomatoes, quartered, to the pan. Continue to cook until all the tomatoes are completely cooked down and their juice is free and it starts to look more like a sauce. Add cream and Parmesan. It will be thick and creamy.
Add to pasta of your choice and sprinkle a little parmesan on top to serve. Serves four hungry people.
Zesty Zucchini Zoodles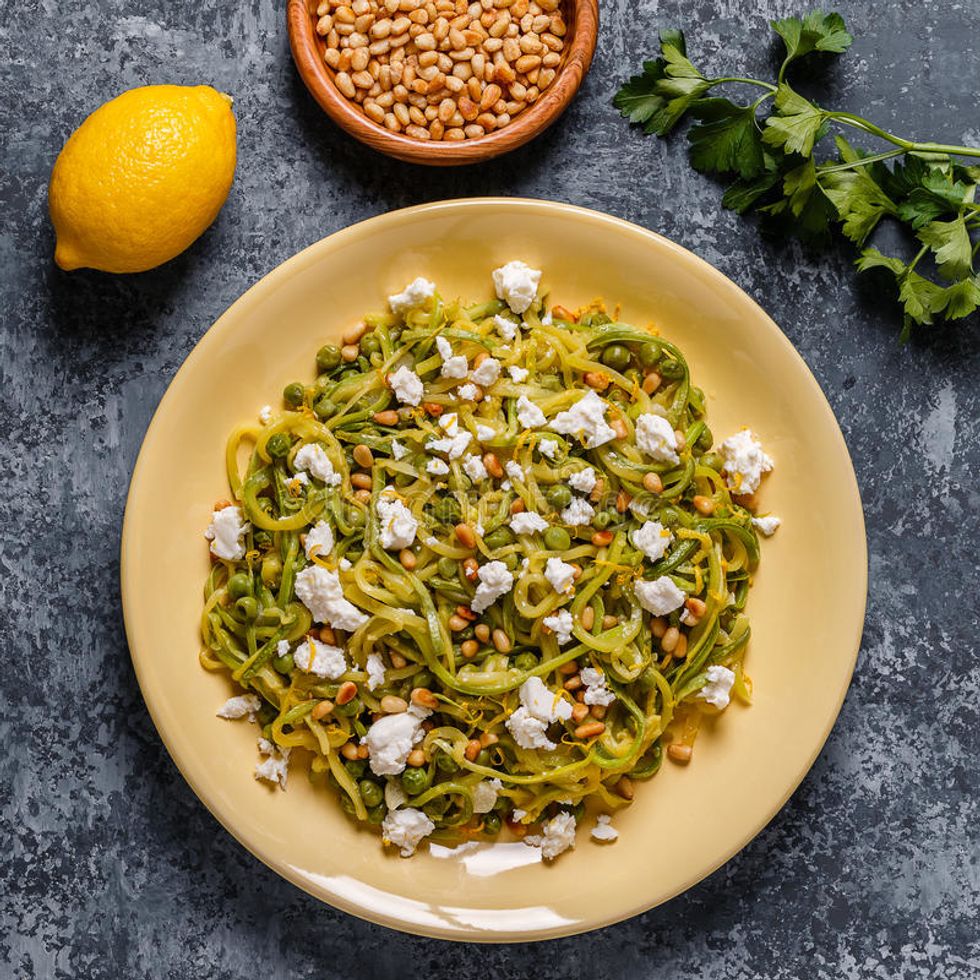 Dreamstime
I don't have a zoodler, nor do I have time to do any zoodling of my own, but I love zoodles. Our grocery store (Trader Joe's too!) sells fresh zoodles that I love picking up and making into an easy, healthy meal. This recipe is so easy, I use it for lunch instead of dinner.
1 pack of fresh zucchini zoodles (or a few of your own homemade zoodles)
1 lemon
1 pack of pine nuts
1 garlic clove, mashed into paste
extra virgin olive oil
goat cheese (optional)
salt and pepper to taste
In a small pan on low heat, toast pine nuts until they are slightly golden brown. Set aside. Add EVOO to larger pan and turn on medium heat. Add zucchini zoodles, garlic and salt and pepper. Squeeze about half a lemon into pan. You can also throw the lemon in with the zoodles after you squeeze the juice for added flavor. Cook until zoodles are soft. Remove from heat, add pine nuts and sprinkle chunks of goat cheese on top. Stir and add more lemon juice for flavor. Serves 1-2 people.
Breakfast Zucchini Pancake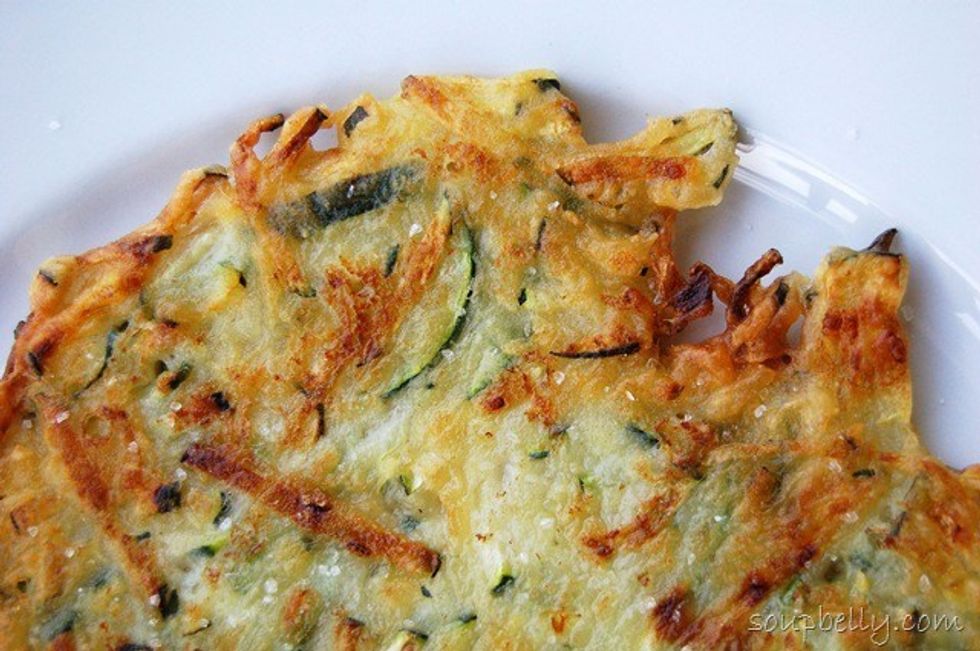 Soupbelly
This is an easy recipe for a warm breakfast treat, or an appetizer before a larger dinner. It's also nice as a grab and go car snack for kids once it cools down.
2 zucchini
1 shallot, diced
¼ cup flour of your choice
2 large eggs, beaten
1 teaspoon baking powder
salt and pepper to taste
butter
Grate the zucchini in large bowl. Sprinkle with salt and let it sit for 10 minutes. Squeeze water out with paper towels. Add eggs, shallot and salt and pepper. Add in the flour and baking powder. You want the batter to be slightly thick. Add more flour if necessary. Put butter in a large skillet on medium heat. Scoop batter on top skillet, cook about 3 minutes on each side until they are golden brown. Repeat until all your pancakes are made. Sprinkle with salt when done. I like to serve these with a side of sour cream for dipping.