Snacks are arguably the most important part of any good holiday party, and Halloween is no exception.
It's hard to resist all the candy corn and caramel apples on Halloween, even though you know all those treats will leave you feeling less than your spooky best. The October holiday always seems to offer excess sugar to tempt you. But you can still get into the holiday spirit and skip the bags of packaged candy and treats full of saturated fat.
We found some of the cutest and creepiest holiday snacks you can make at home and enjoy without worrying about that dreaded sugar crash. No tricks here, just devilishly good (for you) treats. Here are 6 healthy halloween recipes that are low in fat but big on flavor and fun!
All Natural Zombie Brain Cupcakes
By Bren Did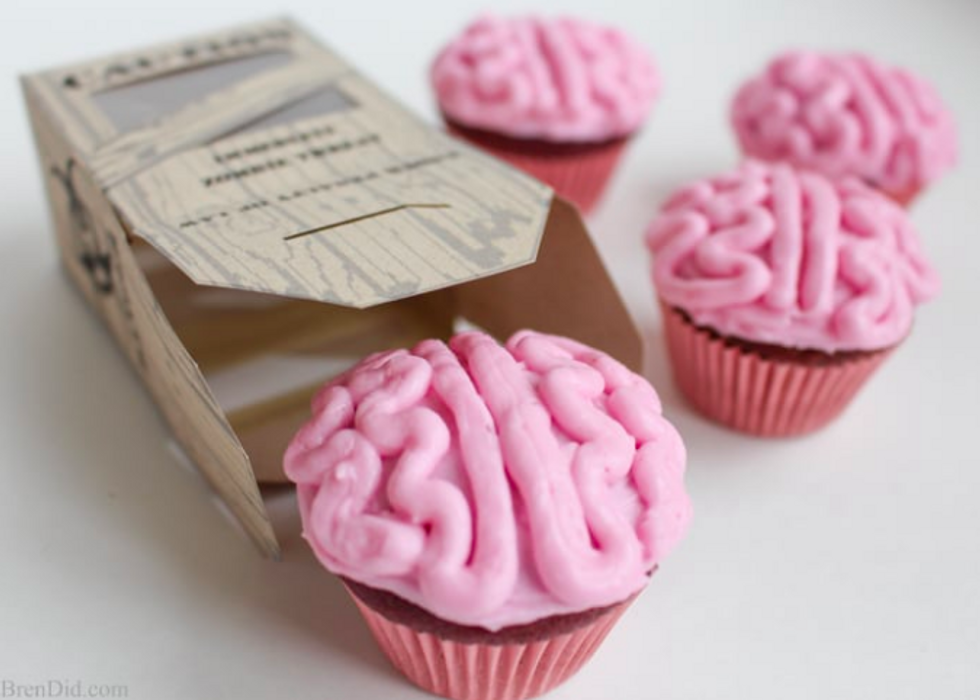 All Natural Zombie Brain CupcakesBren Did
If you're a fan of the Walking Dead or zombie movies, you'll love these cupcakes. These creepy confections are made with all natural ingredients! Instead of using artificial food coloring, the blood red cupcake and pink brain frosting are colored with fresh beet puree!
Even though the delicious cake base is dyed red, it tastes just like pumpkin cake. It's light, slightly sweet, and totally satisfying. Topped with a simple cream cheese frosting, the brain piping is easy to replicate. This is a fun halloween treat to make with kids or serve as a spooky but delicious end to a Halloween dinner.

Devil Eggs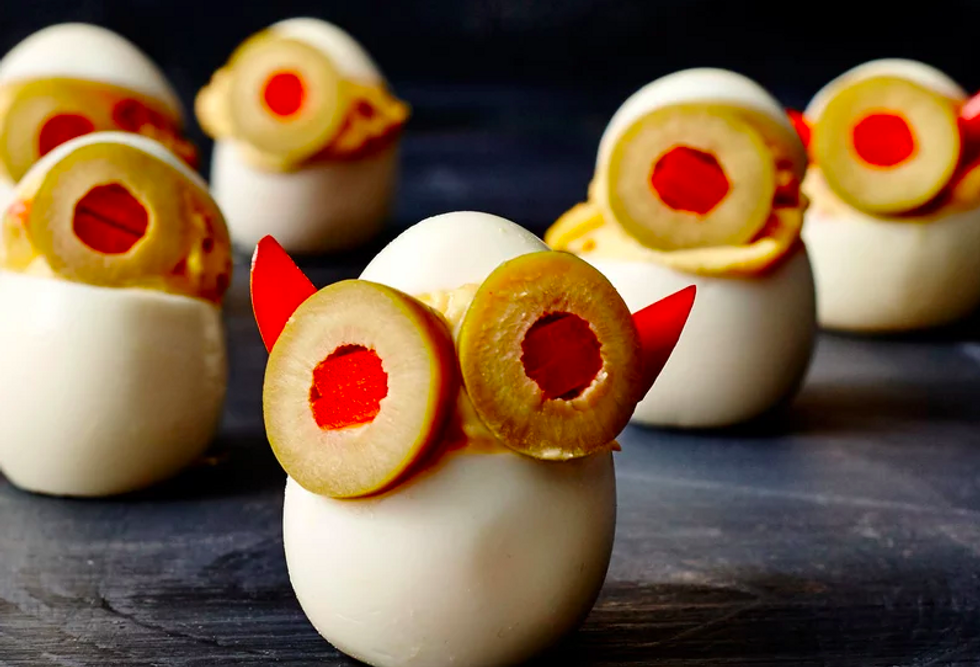 Deviled EggsCooking Light
These deviled eggs are a literal interpretation of the famous appetizer, and are incredibly easy to whip up. Kids will love helping turn the pimento stuffed olives into the eyes and horns, and you can also mix it up and turn some of the deviled eggs into cyclops by using just one olive as an eye.

Stuffed with a sharp cheddar cheese and yolk mixture, the insides are festively bright orange and delicious. This recipe is creamy, slightly spicy, and full of protein. Feel free to skip the decorations and serve these deviled eggs in halves, since the orange filling is still in the halloween spirit.
Squash Soup in Pumpkin Bowls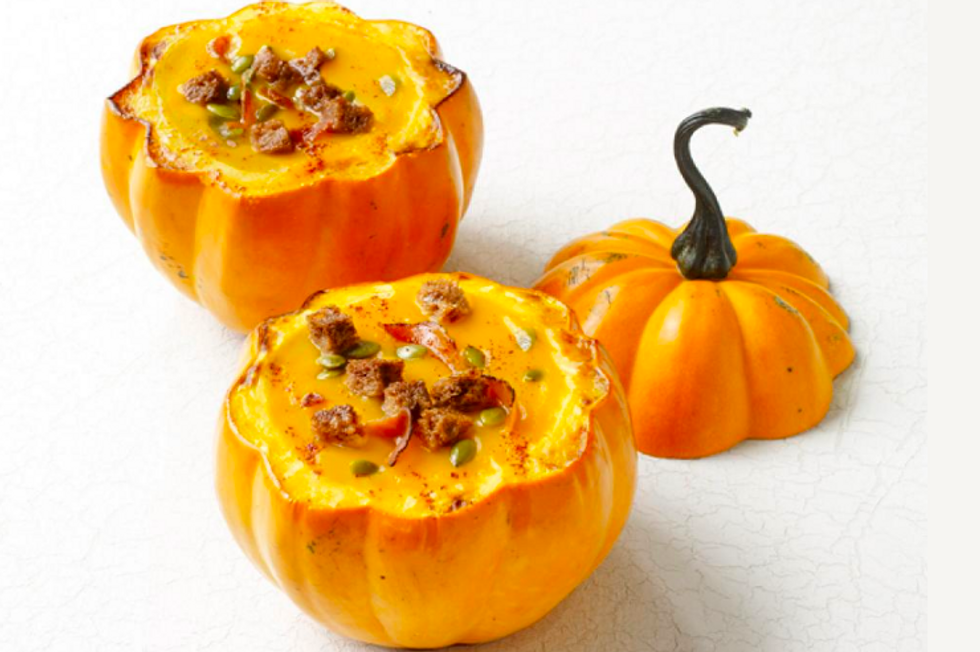 Squash Soup in Pumpkin BowlsThe Food Network
If you're looking for a more "adult" way of celebrating the holidays, try making this tasty squash soup in pumpkin bowls. It's creamy, delicious, and velvety smooth. It's also really good for you. Squash soup is a great recipe to make all fall and winter to warm you up, but is especially festive served in a roasted pumpkin on Halloween or even Thanksgiving.

Try adding some of the baked pumpkin insides to the squash puree for extra flavor. Top with toasted pumpkin seeds, sourdough croutons, fried sage, and a little bit of crispy prosciutto. Yum! You can serve this soup in one huge pumpkin and let guests pour it into mini sugar pumpkins as single serving bowls. You can also serve it in regular bowls, but where's the halloween fun in that?
Spider Bites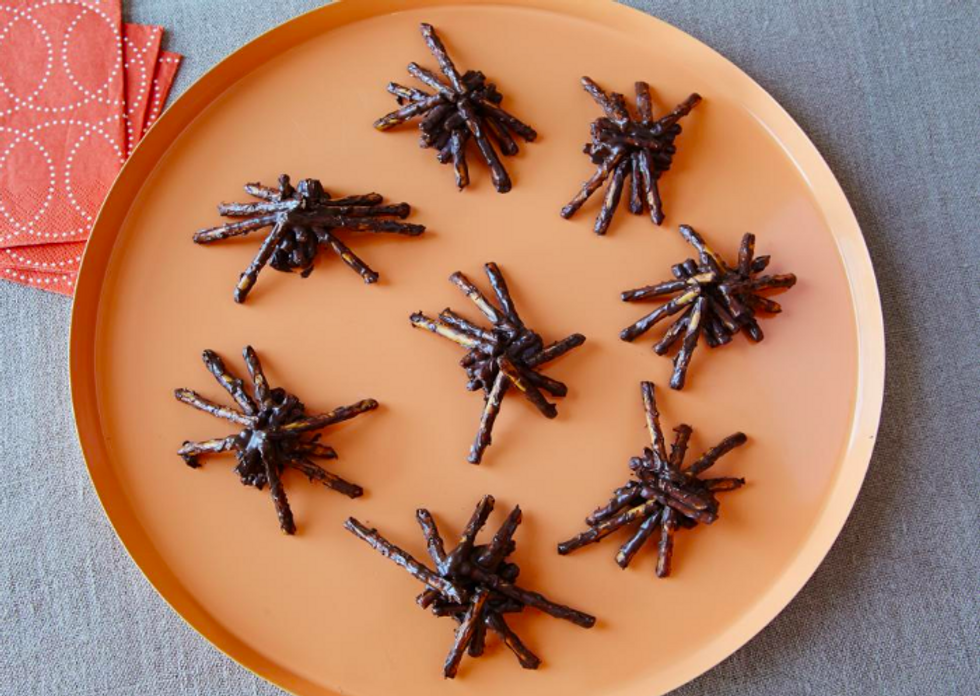 Chocolate/Pretzel Spider BitesThe Food Network/Sandra Lee
The best part about these spider bites? They take about 10 minutes of prep and only cook for 2 minutes! If you're throwing a last minute halloween get together and want to add some homemade snacks, this recipe is perfect. You only need three ingredients, and they're likely already sitting in your pantry.
To make these spider bites all you need is creamy peanut butter, dark chocolate, and pretzels. Melt the peanut butter and chocolate together, dip the pretzels, and assemble. Don't worry about your spiders looking perfect either. Mutated looking spiders only add to the creepy halloween vibe. If you want to take the creepiness up a notch, you could also dot eyes on each spider using leftover frosting from the brain cupcakes. Just darken the frosting with extra beet puree to get a red color before piping.
Bloody Falafel Fingers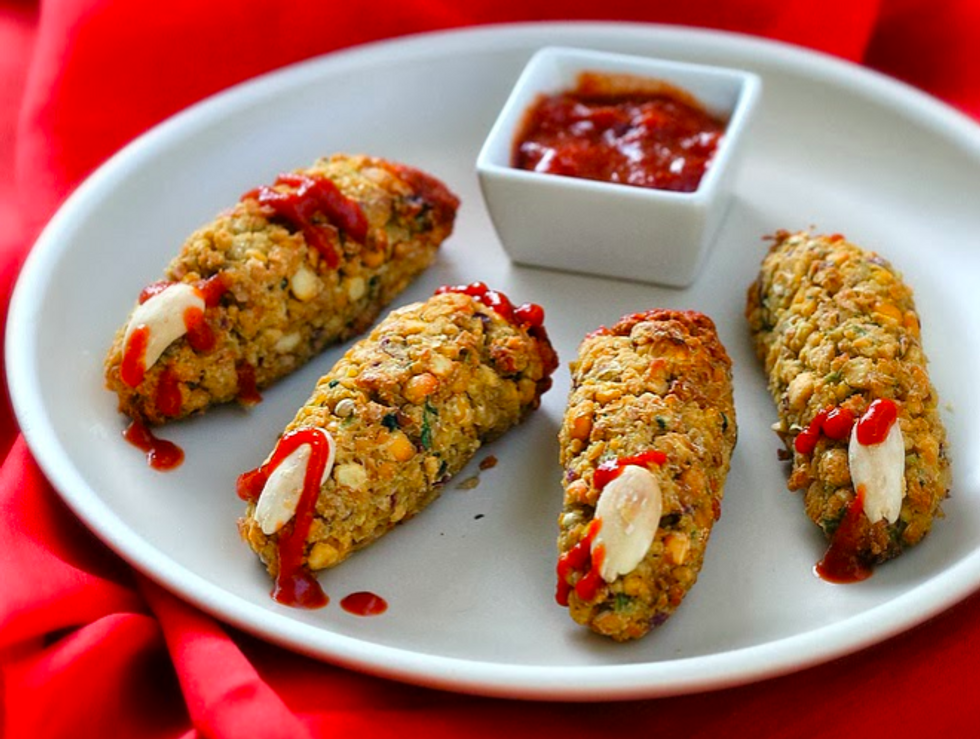 Bloody Falafel FingersVegan Richa
These vegan falafel fingers prove it's possible to have a super healthy and clean halloween snack that's still full of flavor. This recipes is gluten free, sugar free, soy free, and vegan.
Shape the falafels into bite sized fingers, top with almond sliver nails, and drip with bloody ketchup. You can serve them on a plate like in the picture above, or stuff them into a sandwich with the spooky, bloody fingernails peeking out of the sides. Now that's creepy!
Jekyll and Gin Glowing Cocktails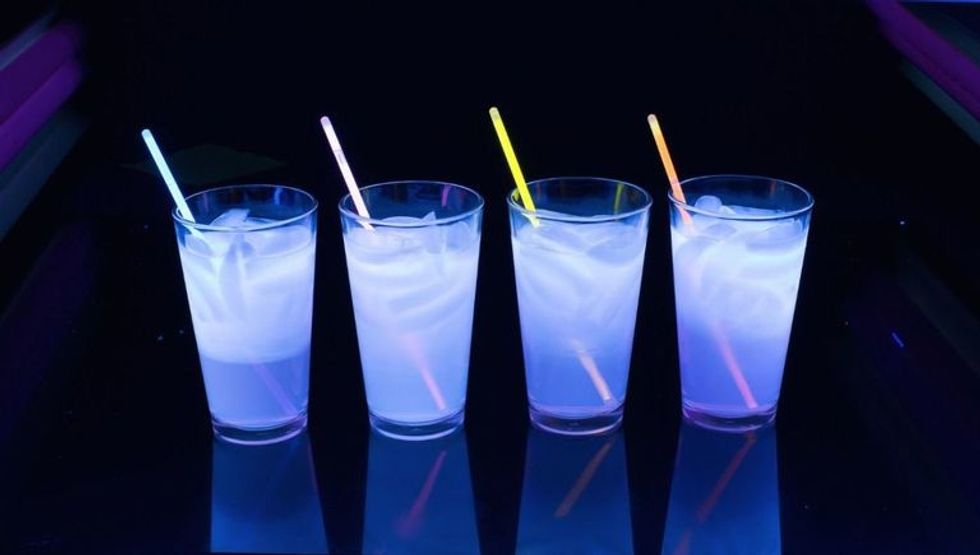 Jekyll and Gin Glowing CocktailsDelish
Looking for a simple but eerie halloween cocktail to serve? Try making this glow in the dark "Jekyll and Gin" cocktail. This easy cocktail recipe is a twist on a Gin Daisy. It's a beautiful blue, coral color in the daylight and glows in the dark when the lights go out. All you need to quickly whip these up is gin, lemon juice, and a splash of grenadine.