by: Melissa A. Kay
Fast food is as American as apple pie, but for the most part, neither are very healthful. On the whole, fast food options are greasy, loaded with calories and salt, and are causing many of those who eat it regularly to get fatter and unhealthier with every bite.
But sometimes fast food is the only option, so knowing there are menu offerings that are relatively healthy choices is something to pull up to the drive-thru window for. Here are some good-for-you choices from some of the most popular fast food joints. Quick and easy doesn't have to mean you've ruined your healthy eating plan or diet.
Chick-fil-A - Grilled Chicken Cool Wrap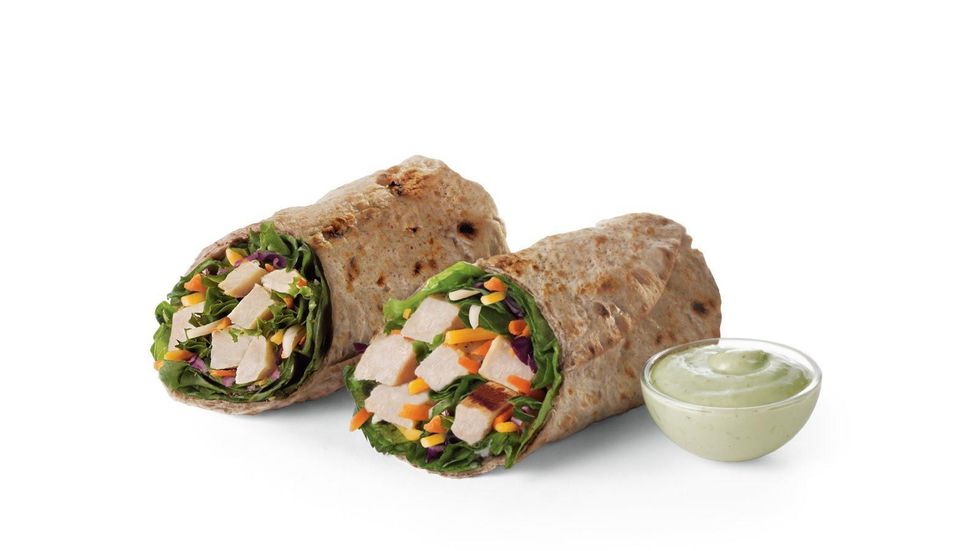 Via youtube.com
Chick-fil-A is a chicken-lover's heaven. But lots of their menu items are fried and fatty – making them taste delicious – but clogging arteries and padding saddlebags with every order.
The next time you've got a craving for Chick-fil-A, opt for the Grilled Chicken Cool Wrap. Sounds pretty cluckin' tasty, heh? And as per Business Insider, this healthful wrap has about 350 calories, yet packs in over 35 grams of muscle-building protein. Filled with slices of juicy grilled chicken breast and lots of veggies like green leaf lettuce, cabbage, and carrots, this wrap is in no way full of crap.
Chick-fil-A notes that the wrap is made with flaxseed flour, which is far better for you than white flour, and since the dressing (avocado lime ranch) is served on the side, you can control how much you use. Chick-fil-A gets an A+ for a healthy menu choice that is as delicious as their less-healthful fare.
Dunkin' Donuts – Veggie Egg White Flatbread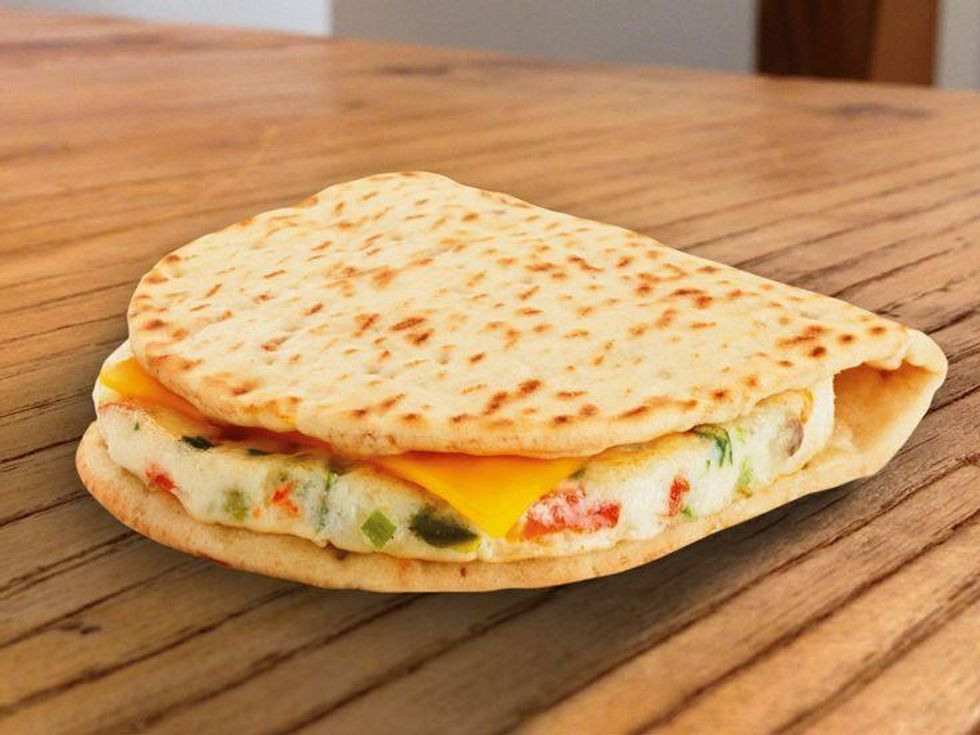 Via pinterest.com
Naturally, most of us head to DD to get a sticky jelly donut or a box of Munchkins, but if you can put your sweet tooth aside and think health-forward, then the Veggie Egg White Flatbread will hit the spot and nourish you with savory deliciousness.
This breakfast treat is made with an egg white omelet, filled with diced red and green peppers, mushrooms, and green onions, with melty aged white cheddar, served on a toasted multi-grain flatbread for an on-the-go meal that is as tasty as a Boston Kreme donut. Or at least close to it.
The flatbread sandwich has 330 calories, 18 grams of protein, 25% of your daily recommendation for calcium, and is low in cholesterol. They say "America runs on Dunkin'" and with a healthy meal like this Veggie Egg White Flatbread, you won't be out of breath doing so!
Wendy's - Rich & Meaty Chili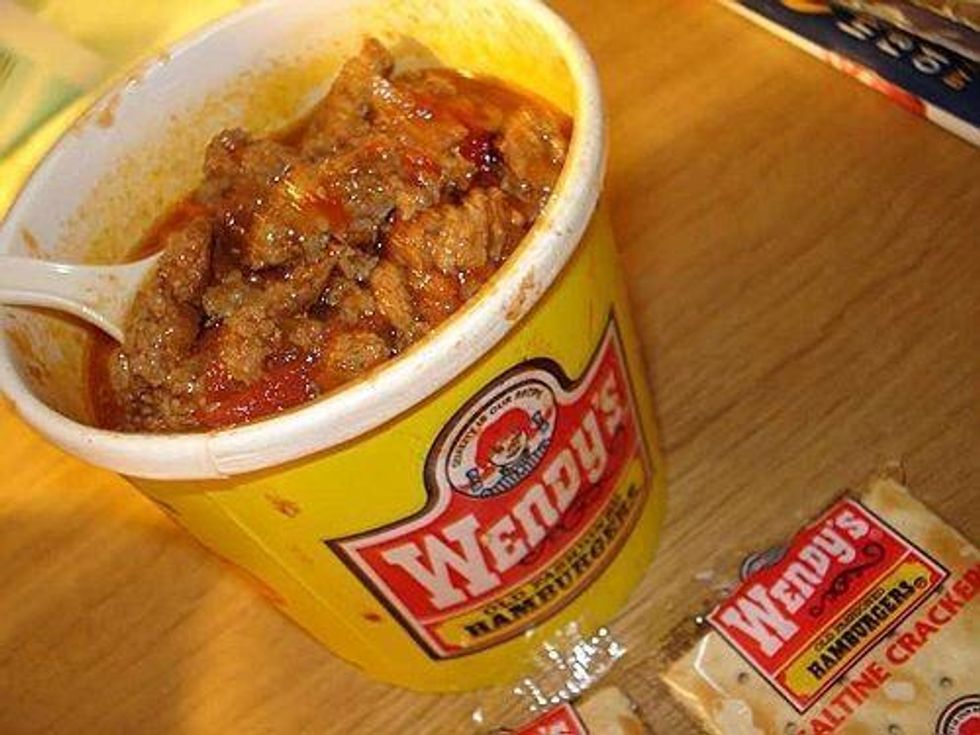 Via cookdiary.net
Wendy's is famous for their square-shaped burgers, but their Rich & Meaty Chiliis a smarter choice and is just as tasty.
This hot and hearty chili is high in fiber and low in fat, and is rich and robust with a zesty flavor that tastes homemade. A small serving is just 170 calories, yet has an impressive 15 grams of protein. Filled with a mix of beans, this meal is a heart-healthy choice that will fill you up and won't slow you down. And if you're hungry for more, the large portion is only 250 cals, so go for the upgrade. The chili may be hot, but the health benefits are totally cool.
McDonald's – Southwest Grilled Chicken Salad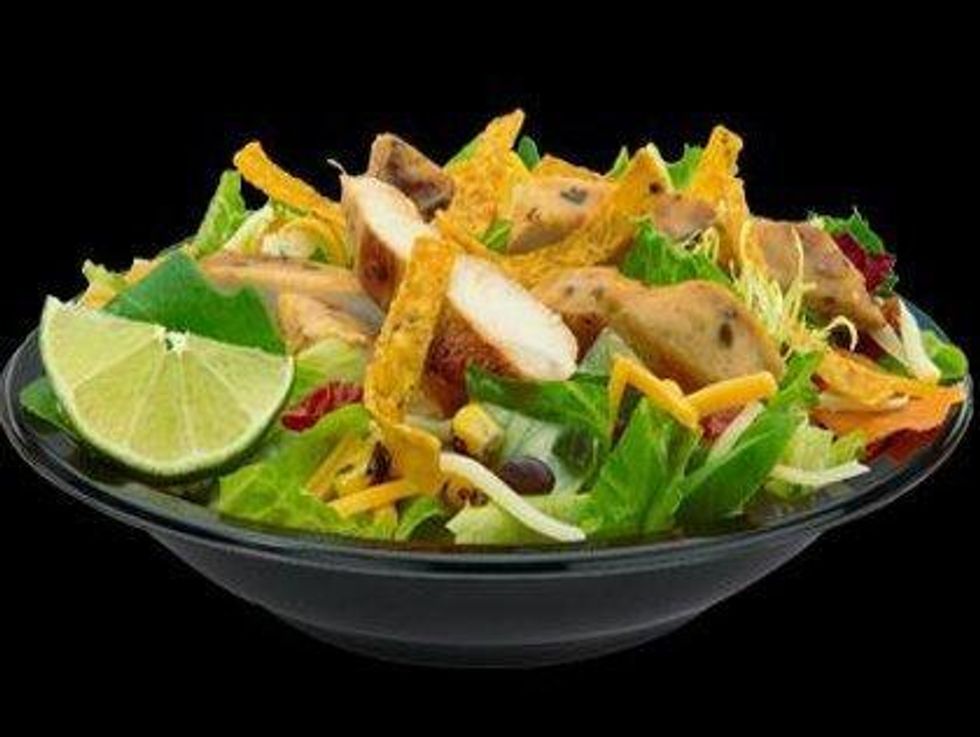 Via boston.cbslocal.com
McDonald's is known for Happy Meals, burgers, and fatty fries, but think outside the buns and go for a fresh salad instead. The Southwest Grilled Chicken Salad is a reasonable 350 calories and boasts 37 grams of healthy protein.
This crisp salad is made with 100% chicken breast filet with no artificial additives. Corn, beans, tomatoes, peppers, and two cheeses top chopped romaine, baby spinach, baby kale, red leaf lettuce, and carrots, making this salad a feast for the eyes and belly. Ask for the dressing on the side so you can dribble on sparingly.
Burger King – Morningstar Veggie Burger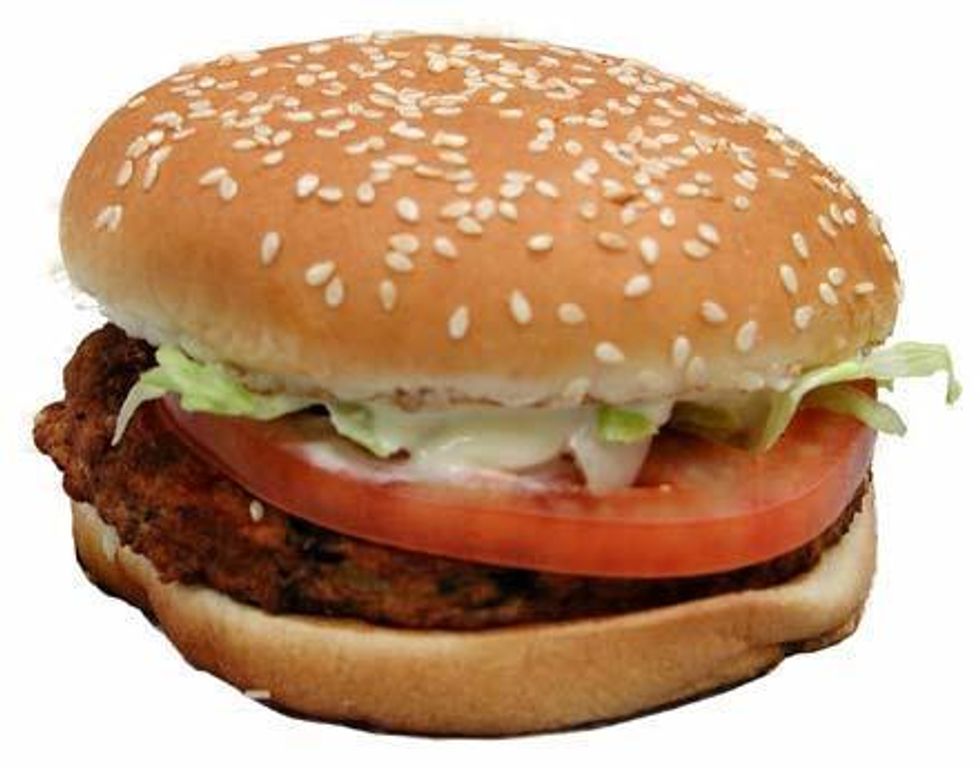 Via theimpulsivebuy.com
Vegetarians and meat-eaters alike will enjoy this meatless BK option thanks to its flavorful blend of ingredients and impressive health-factor.
The Morningstar Veggie Burger is made of wholesome grains and a mix of veggies, and is topped with fresh lettuce, tomato, onion, pickles, and condiments of choice. Hold the mayo to save fat and added cals.
This meatless marvel is under 400 calories, has 22 grams of protein, and 0 trans fat. Who knew the king of burgers had a vegetarian option?
Next time you find yourself stressing over fast food menus, remember these healthy choices and don't sweat it. A fast food fix can be nutritious and delicious!